Tuesday, February 22, 2011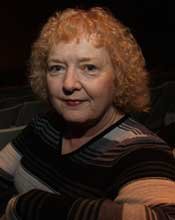 Nola Gibson loves to learn. As the director of continuing education of Millsaps College for nearly 20 years, Gibson has not only made lifelong learning an important part of her life, but she is constantly working to provide quality educational opportunities to the residents of Jackson and beyond.
Gibson, 63, grew up in Houston, Miss., and moved to Jackson after graduating from the Mississippi University for Women with a bachelor's degree in journalism. She went on to earn her master's degree in journalism from Ole Miss. After working for the University of Mississippi Medical Center and the Mississippi Institutions of Higher Learning, Gibson received her doctorate in higher education leadership from Ole Miss while working full-time doing public relations for Millsaps College.
"I loved being in higher education, being around the people and all of the great things that go on a college campus," Gibson says. "I thought it would be interesting (to pursue a degree in higher education)."
Since 1995, Gibson has been working on Millsaps' Community Enrichment Classes, bringing speakers to campus through the Millsaps Arts & Lecture Series, and working on semester-long Great Topics Seminars in the Humanities and Sciences.
Last year, Gibson helped bring to Millsaps one of her favorite speakers: Jackson native Kathryn Stockett, author of "The Help." The event was completely sold out, and this year Gibson hopes to bring the filmmakers who are working on the movie adaptation to speak.
"I'm a people person, and we have to promote everything that we do, so we meet the artists, the people that teach the classes, ... we meet all kinds of great folks," Gibson says. "Seeing people come and engage in lifelong learning, and take time out of their busy lives and come to a lecture or take a class--it's very fulfilling."
Gibson loves that her job never gets boring. It allows her to try some of the community enrichment classes that she promotes. So far, her favorites have been the gardening and yoga classes.
When she's not working, she loves to ballroom dance (tango is her favorite), and is the publicity director for the Magnolia Ballroom Dancers' Association. She's also a season-ticket holder to the symphony and New Stage Theatre and is involved with Jackson 2000.
"(Jackson) is big, but it's got a small-town feel. I see people everywhere I go, and there are tremendous opportunities for culture here," she says. "The opera, the symphony, New Stage--there are more things to do than I can do."
Gibson loves spending time with her two children, Ginger and Jeremy, who make their homes in Jackson. She welcomed her first grandchild in January.