Wednesday, February 23, 2011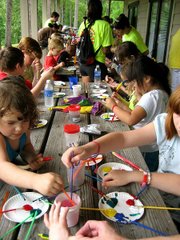 Since the fall of 2002, Mississippi children living with diabetes have joined together to create arts and crafts, run relay races, sing campfire songs and participate in other fun activities at Camp Kandu. The camp's name is part of their motto: Children with diabetes "can-do" many things. Camp staff works to make sure of that during their time at camp when they are uninhibited by their disease.
Kandu inspires children to stay positive and remember that they can accomplish anything they want. Irena McClain, the Camp Kandu director who also serves as the associate director of the Diabetes Foundation of Mississippi, says the camp is an opportunity to enhance diabetes education and facilitate networking for the parents of children dealing with the disease.
"Living with diabetes is still about living," she says.
The spring session of Camp Kandu starts May 7, 9:30 a.m. at the Twin Lakes Conference Center in Florence. The camp is free for children with diabetes, but registration is required and space is limited. Call 601-957-7878 or visit http://www.msdiabetes.org for more information.