Wednesday, February 23, 2011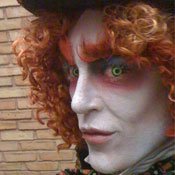 As I walked out of the office, a coworker said, "It's Monday, so you're going to Babalu, right?"
Making a mental note that perhaps I should shake things up a bit, I sheepishly replied, "Ummm. Yes."
When I arrived at Babalu Tacos & Tapas and met B, she looked smart and preppy as always, with a cable-knit sweater over a button down and slacks. This is a total contrast to the outfits I pull together and nothing I could pull off convincingly. I commented on that, and B laughed.
"My New Year's resolution was to not wear cable-knit or button downs," she said. "... I made it all the way to February 7!"
This got me thinking. We all evolve our style and experiment through the years, but most people eventually settle into a signature look. Experimenting and playing with things you don't ordinarily wear can be fun, but if you try to do it too drastically, it may not work. You have to adapt trends to how they work for you. The same can be true with your social routine. It's good to mix things up, but being a beloved regular somewhere is a good thing, too.
Armed with these thoughts, I went about my week, vowing to get out of my rut a little.
Tuesday night, I wound up at Hal & Mal's, where Pub Quiz (something I typically never attend) was in full effect. My table didn't officially participate, but it was a fun crowd, and the place just always feels comfortable. That's part of being such a Jackson institution. (Mark your calendar for Hal & Mal's 26th birthday bash on Feb. 26, by the way.)
Wednesday, I met friends at Underground 119. While there, I found none other than downtown resident Tequila Guy (aka Michael Rejebian) not at the bar but behind it. He's now at 119 telling stories and pouring drinks on Wednesdays and Thursdays. Believe me, you want to hear his stories, so go visit him.
Saturday was the highlight of the week. When my friend Eddie asked if I wanted to play the role of Alice in Wonderland to his Mad Hatter and his friend Karen's Red Queen for a flash mob planned at a fundraiser at the Mississippi Children's Museum, I squealed. A costume and choreography? Yes, please. Besides, nothing says "break out of the routine" better than a flash mob.
Before the party, we gathered at the King Edward bar, which bustled with a mix of locals and hotel guests. It was a nice way to ease into the evening. Well, except that at one point, a woman's dress visually assaulted us. Note to self: When wearing a sequin-covered garment, stick to a single color, not four.
The Children's Museum fete was quite the party, catered by Best of Jackson Best Caterer Wendy Putt and with lighting by the talented Stephen Barnette. We made a few passes through to nibble and schmooze partygoers before heading to put on our costumes. I spotted several instances of sequins done right—black sequin skirt, simple black top.
After applying makeup and doing our hair, we ran through the crowd at about 11:30 p.m., encouraging everyone to move upstairs. Then the flash mob happened. Eddie says it was more like a flash gaggle, but it was a lot of fun, nonetheless, and the crowd loved it, except maybe a few folks who were busy at the butt-sketch booth and missed it.
When we wrapped up things at the museum, Eddie, dressed in his most extreme costume getup as the Mad Hatter, declared for the 100th time, "I am NOT going home to just take all this off!" And so we decided to go dancing. Dressed in Alice attire, I as on a mission to decide if blondes really have more fun.
So where does one go when dressed like the Mad Hatter's Tea Party when it's not Halloween? The only plausible answer is a gay bar, and the only real decision was which gay bar. We settled on Bottoms Up.
A dapper Carl Gibson greeted us at the door in suit, tie and a fedora that he will graciously tip to you (in case you want to tip him). Classy, yet entrepreneurial—I like it. Inside, it looks like Jack & Jill's, which it was in its former life, but with the addition of some new, er, artwork hanging from the ceiling in the bar area. (Go see for yourself.)
But it's really all about the dance floor. Packed with a diverse crowd of LGBTs and straight folks, black and white, older and younger, everyone was having a blast. After dancing the night away and, of course, lots more photos, we headed home. As we did, I couldn't help but think shaking things up was exactly what I needed. And then I thought how I couldn't wait to get back to some of my usual haunts next week in my normal clothes.
But I may go blonde for spring.