Wednesday, February 23, 2011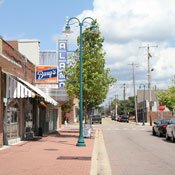 Development of the Farish Street Entertainment District may have hit a wall of high prices, says Big Apple Inn restaurant owner Geno Lee.
The Big Apple Inn has been at its current location for 71 years, Lee says, and its Farish Street identity was the main reason Performa Entertainment, the former developer of the historic district, approached him with the prospect of moving his restaurant a little further south along the street into the remodeled entertainment district, near Amite Street.
Performa, the developer behind Memphis' buzzing Beale Street, never got the Jackson project off the ground. Developer David Watkins, the face behind the renovation of the King Edward Hotel and the Standard Life Building in downtown Jackson, stepped in to continue development in 2008, after paying Performa $425,000 and agreeing to assume the $1.5 million in debt Performa accrued while renovating the district.
But Lee said Watkins' company has since offered a different lease price than that Performa offered, and that the new price is too high for him to handle.
"(Watkins Development) pulled me aside in November last year and quoted me $22 a square foot, plus 6 percent of my gross sales, not to mention that before I move in, I fix my own air-conditioning and, with upgrading, I have to pay them $160,000. And that's not including my own bills, such as garbage pick-up and other things," Lee said.
Lee's prospective location in the district is 1,200 square feet, which could amount to $26,000 in annual rent, plus 6 percent of gross sales.
"They said: 'You can handle that because you'll be making $20,000 a week. People will be coming down in droves.' I'm saying you can't project that," Lee said.
Developers slated numerous entertainment venues to open in the district beginning late last year, including local favorites Big Apple Inn and the Subway Lounge, new additions like Beethoven's, and national venues such as B.B. King's. Former Watkins Development spokesman Brad Franklin said last year that some of the businesses would open this February. However, Franklin is no longer with the company and said he could not comment on development delays.
Chip Matthews, prospective owner of Beethoven's, said Watkins Development told him he could move into his Farish Street location within 90 days, if they could agree on a price.
"They offered me a lease for $8 a square foot, but I think that's too high, because you've also got 6 percent of your gross income--which is a workable figure--but the renovation costs are killing people," Matthews said. "You're signing a note for half a million dollars for 15 years, which is intimidating."
Watkins said earlier this month that the development is targeted to high-end venues that generate "$1 million a year."
"We can't afford to have any clubs that don't really generate a lot of money and attract a lot of traffic and customers," Watkins said this month. "...[A]ll of the developments have to be at a high level of quality, and all of the developments have to be approved by (the Department of) Archives and History."
Because development of the district must conform to expensive building standards set by the Department of Archives and History, Watkins said, the resulting real estate is some of the most expensive in the state.
"Every lease has its own build-out provisions. We end up with so many governmental approvals that you have devils in the details," Watkins said. He added that he and investors at Farish Street Group LLC have put about $8 million into the Farish Street development to date, with about $4.5 million of that in loans. Developers in the district qualify for federal tax credits worth up to 20 percent of development costs.
"We're 70 percent complete on the first block. We're spending about $20,000 a day," Watkins said.
Jackson Mayor Harvey Johnson Jr. said he hoped existing businesses near the district would "benefit from the emergence of Farish Street," but he would not offer the JFP his preference for the type of business he wanted to populate the district. He said he hoped the businesses would "highlight the strong heritage of the historic district as well as serve as a unique destination" for patrons.
Watkins said this month that his company is still having "ongoing negotiations with all of our tenants." He expects the B.B. King club to be the first business to open in the district this summer.
"We're moving along slowly and surely," Watkins said. "We've had some bumps in the road, and we're going to have more bumps on the road. Every week we have a new surprise, but I'm not discouraged. I'm not pessimistic; I'm optimistic. I know we're going to get this thing done. It's been going on for 15 years, and we've only had it for two."
Matthews said last week that his attorney was currently reviewing a lease agreement with Watkins to get Beethoven's open.
CORRECTION: In the original version, Adam Lynch erroneously reported that Big Apple Inn was asked to pay $26,000 a month rent, rather than $26,000 a year. That was incorrect, and has been corrected above. A correction will also run in the next print edition. The Jackson Free Press apologizes for the error.
Previous Comments
ID

162244

Comment

Why do they want to charge Big Apple Inn $22 a square foot but only charge Beethoven's $8 a square foot??

Author

LambdaRisen

Date

2011-02-23T14:28:21-06:00
ID

162245

Comment

"quoted me $22 a square foot...Lee's prospective location in the district is 1,200 square feet, which could amount to $26,000 in monthly charges..." uh, not quite so fast Geno and Adam. When basing rent on square footage, the resulting number is usually always on an ANNUAL basis, resulting in Geno only paying $2200 a month in rent, plus the 6%. Such confusion is why I do what I do with the Restaurant Association (call me Geno; we can help you learn about lease negotiations et al). The $8/ft quoted Chip is much more in line with market averages for Jackson, MS. $14-$22/sq ft is normal for the metro area, excluding brand new development. As for base rent plus a 6% gross sales figure, I think that's very high (3% may be more in line).

Author

GradyGriffin

Date

2011-02-23T14:44:14-06:00
ID

162247

Comment

Thanks for pointing this out, Grady. I'm adding a correction above: Adam made a mistake and calculated the number for monthly instead of annually. When Lacey called Geno to factcheck the number, he said it was correct. I just talked to him, and he confirmed that it's annual and apologized for not hearing that she asked him about it being monthly. He was very nice about it. Ultimately, though, it was our mistake, and we shouldn't have made it. We apologize for the error. As for the 6 percent number, Lacey said Geno confirmed it as well, so I have no reason to believe that it isn't accurate.

Author

DonnaLadd

Date

2011-02-23T18:27:21-06:00
ID

162254

Comment

I'm not questioning the accuracy of the 6% gross add-on, Donnna. That's simply a high figure when considering our industry averages 4-6% profit margin, and total occupancy costs average 6-7% of total sales. Developers have to come to understand these basic figures when determining affordable lease terms. If they don't, they'll keep staring at empty spaces.

Author

GradyGriffin

Date

2011-02-24T14:04:53-06:00
ID

162257

Comment

Gotcha, Grady. Thanks, again, for pointing out the other error. I would have hated that to sit out there very long; at least we could fix it online immediately.

Author

DonnaLadd

Date

2011-02-24T15:01:14-06:00
ID

162275

Comment

i'm still not clear as to why beethoven's and big apple inn were quoted vastly different rent prices. also, can an article be done on what will happen with the dilapidated housing that surrounds Farish street? what can be and will be done to improve the area as a whole? i understand the entertainment district being developed is only 2 blocks, but what will be done with the rest of the street extending to High street? i don't know how there will be a vibrant entertainment district with all of that dilapidation sitting adjacent to it...

Author

eyerah

Date

2011-02-24T22:28:12-06:00
ID

162276

Comment

Without knowing how large Beethoven's space will be, I'm not sure this response is accurate. Typically, the larger the space, the lower the per square foot rental rate. Smaller spaces, i.e. 1,200 square feet pay on a higher rate than say an 8,000 sf space.

Author

stark

Date

2011-02-24T22:54:45-06:00