Wednesday, February 23, 2011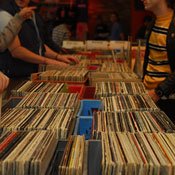 In this new world of instant, digital and more-often-than-should-be free music, there's a group of music lovers who continue to cling to their vinyl records. These types spend hours getting their fingers dusty in thrift stores, used record shops, garage sales and wherever else their search leads them. And when they find what they're looking for? They can have the honor of spending $50 on an album that could be downloaded online in minutes from the comfort of their own homes. Honestly, I would call them pathetic, but I'm of one of them.
Why do we do this to ourselves? Because like Phillip Rollins, aka DJ Young Venom, says: "You can't beat the sound of a vinyl record. It's uncompressed, straight off the reel, studio-quality sound."
Some people collect just for the artwork, too. "The photography on any Ohio Players records alone is worth all the work," Rollins says,
Rollins is the organizer of Jackson's first record-swap convention, "4 the Record" on Feb. 26. Vinyl lovers from all over the southeast will converge on the North Midtown Arts Center on Millsaps Avenue to buy, sell, trade, show-off and talk records.
He decided to organize the event in December, inspired by a gig with Denver DJ and vinyl wizard Brik-a-Brak. "It's something that I always wanted to go to but could never make it to one, so I thought, 'Hey, why don't I just organize one?' It couldn't hurt, and I don't have much to lose," Rollins says.
"4 the Record" also serves another purpose: to help a non-profit organization. That's because Rollins says that's where he has unearthed some of his favorite finds. All proceeds from the event will benefit the Salvation Army.
Beyond this, "4 the Record" has a place within the greater arts scene in Jackson. Richard Stowe, director of the North Midtown Arts Center and owner of screen-printing shop Lotus Editions, says the Arts Center is "turning into a full-service event rental space with printers and photographers ... to provide all forms of retail to music lovers."
The record swap will be a great opportunity for these artists to mingle with an array of diverse music connoisseurs who bring with them a built-in community. Chris Nolen, a vinyl junkie from Jackson, recently started a Facebook group called JXN WAX that serves as "a support group for vinyl addiction."
"Ultimately, the more of us there are—the more visible and united we are as a community—the more we can support events and businesses that cater to our particular obsession," Nolen says. "I think '4 the Record' is a fantastic idea that is timely and needed. And maybe I can find that Walkmen record I've been looking for."
"4 the Record" is at The North Midtown Arts Center (121 Millsaps Ave.) Saturday, Feb. 26, from 9 a.m. to 2 p.m. Admission is $4 for the public; $20 fee to set up a table to sell. Check out http://www.4therecordswap.com for more information about the event.
Previous Comments
ID

162249

Comment

Reason #4,612 to be addicted to the black crack (aka vinyl) - Sleeveface! http://www.sleeveface.com Seriously, people, come out on Saturday. It's going to be a blast. -mvp jr

Author

mpriesterjr

Date

2011-02-23T23:15:14-06:00