Wednesday, February 23, 2011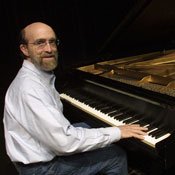 Guess who: The unassuming-looking gentleman mostly grew up in Montana but is a Chastain Warrior, because he spent his junior high days in Jackson. After he heard The Doors when he was 18, he started playing organ. But then he heard a little Fats Waller music from the 1920s, and everything changed. Switching from organ to piano, he's made a name for himself as a solo pianist and has recorded more than 10 albums on the instrument.
Figured it out yet? It's George Winston.
To introduce the Winston Project Inc., a non-profit organization committed to combating juvenile delinquency by offering intervention and prevention services to youth in the state, Grammy-award winning Winston will play two concerts.
The pianist, who comes to Jackson about once a year, says he always looks forward to coming back. "The time I spent in Mississippi has greatly inspired my music. I don't want to take money from the state; I want to give back," he says. The arts will play an essential role in the activities the organization puts on.
To prepare for performances and recordings, Winston says he practices, of course, but takes breaks from piano playing when he needs to.
"Sometimes you just need to get away from it for a couple days," he says.
Piano isn't Winston's only instrument. He also plays guitar and harmonica. Each of the three instruments, he says, offers something different. "When I find a song sounds better on one than the others, I usually stick to playing that song on that instrument," he says.
The musician is currently working on a follow-up to his "Gulf Coast Blues & Impressions: A Hurricane Relief Benefit" album, part two, honoring those affected by the BP oil spill that also devastated the Gulf Coast area.
But this weekend, it will be all about benefitting the children of the Winston Project, Hudspeth Regional Center and Friends of the Mississippi State Hospital.
Hear George Winston at circa. Urban Artisan Living (2771 Old Canton Road, 601-362-8484), Friday, Feb. 25, 7:30 p.m., $75; or Saturday, Feb. 26, 7:30 p.m., with an after party at 9:45 p.m., $100. Tickets available at Ticketmaster locations and circa.