Wednesday, February 23, 2011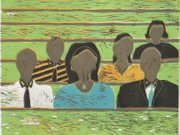 Public-school systems across the nation are making budget cuts that, in some cases, completely eliminate arts programs, be they large or small. Fortunately, Jackson Public Schools and its Academic and Performing Arts Complex share a unique vision: "to provide excellence in art and academics by providing intensive training for academically talented students through the provision of a strong scholastic and specialty enrichment program."
Marilyn Martin, the principal and performing arts coordinator at the Star-ranked Power APAC, says proudly, "This is the only school like this in the state."
The Arts Center of Mississippi will host the Power APAC Student Exhibit April 10-April 30, showcasing the talent of students in grades four through 12. The opening reception is April 10, 1-3 p.m.; see the exhibit Monday through Saturday,
10 a.m. to 5 p.m. and Sunday, noon-4 p.m.
For more information on this free exhibit, call the Greater Jackson Arts Council at 601-960-1557.