Wednesday, February 23, 2011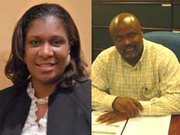 The Jackson City Council voted Friday to confirm Mayor Harvey Johnson Jr.'s two additional nominees to the Jackson Public Schools Board of Trustees. After delaying the vote for weeks due to infighting, council members voted 5-0 to add Linda Rush and 4-1 to appoint Timothy Collins to the seven-member board.
Ward 5 Councilman Charles Tillman cast the lone vote against Collins' confirmation. Tillman has protested Johnson's selection of Tillman, saying that he felt excluded from the selection process for a representative of Ward 5 on the school board.
Tillman previously protested Collins' selection by walking out on a meeting to schedule a confirmation hearing, thus denying Council President Frank Bluntson the quorum necessary to set a hearing date. At Friday's meeting, Tillman made his displeasure known again, at one point interrupting Bluntson as the Ward 4 representative asked Collins about the district's services for poor students.
"I didn't say anything while you were speaking, and I'd appreciate if you'd be quiet while I'm talking," Bluntson snapped.
"You're not supposed to debate from the chair," Tillman said, echoing a complaint Bluntson used to make about former Council President Leslie McLemore.
Bluntson called a five-minute recess to clear the air, and Tillman apologized for his remark. Tillman was not totally pacified, however. After Ward 7 Councilwoman Margaret Barrett-Simon made a small comment complimenting Tillman's character and asking Johnson to ensure that the nomination process involved council members in the future, Bluntson instructed her to limit her remarks to the current board nominees.
"Mr. Chairman, please don't be a dictator," Tillman said.
Ward 6 Councilman Tony Yarber, who is also principal of JPS' Marshall Elementary School, does not attend school-board confirmation hearings, citing a conflict of interest. Ward 2 Councilman Chokwe Lumumba was also absent from Friday's meeting.
Both appointees told council members that they needed more information before forming an opinion on JPS Superintendent Lonnie Edwards, who is appealing a Dec. 7 board decision to let his contract expire at the end of this school year. The board voted against renewing Edwards' contract by a 3-1 margin, with one member, Ivory Phillips, absent. Edwards would need four votes to reverse the earlier decision, meaning that the two new members could determine Edwards' fate.
Newly elected Ward 1 Councilman Quentin Whitwell appeared aware of that possibility Friday. He asked Rush if she believed she could make informed decisions before receiving training. Rush dodged the question, saying that she could not make a decision "without being privy to the information."
State law requires new board members to attend a training session with the Mississippi School Boards Association within six months of their appointment.
New members can attend meetings and cast votes before receiving their training, JPS Board Attorney Dorian Turner said. MSBA did not return a request for the next available training date. The board has 30 days from the hearing date to render
a decision.
Rush, a Jackson State University administrator, is president of the Siwell Middle School Parent Teacher Association. She told council members that she would solicit information from a variety of perspectives—parents, teachers and students—before making her decisions.
Collins is executive director of the Mississippi Housing Partnership and president of Partners to End Homelessness. He said that he hoped to increase the district's attention on the issues of students living in poverty.