Wednesday, February 23, 2011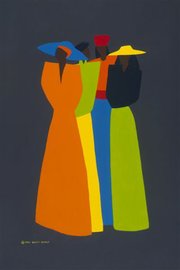 Humanities Festival Week 2011 at Tougaloo College is a week-long cultural awareness event celebrates all things ethnic with its "The Power of the Arts and Letters" theme.
Hear campus poets compete to be Tougaloo's Poet Laureate on March 28. Try food from foreign lands on International day March 31, when the college's foreign language-studying students bring a dish representing cuisine from the country whose language they're learning. Music students and faculty will perform in recitals, too.
Synthia Saint James, author, illustrator and international award-winning artist, will bring some of her "arts and letters" to the festival March 28. She is the cover illustrator of Terry McMillan's acclaimed novel, "Waiting to Exhale," and many children's books, poetry books and cookbooks, Saint James also designed the first U.S. Postal stamp honoring the Kwanzaa holiday.
Rounding the week out, student thespians take the stage for "Crimes of the Heart" April 1.
Humanities Festival Week at Tougaloo College is March 27 through April 1. For a complete schedule, visit http://www.tougaloo.edu or call 601-977-7700.