Wednesday, February 23, 2011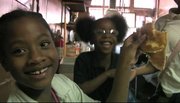 It's more than just films, says Film Threat critic Chris Gore about the annual Crossroads Film Festival.
"Film fans have the opportunity to meet many of the filmmakers and discuss the filmmaking process. ... Even the youngest fans will get a chance to learn about the filmmaking process," he writes.
This year is no different. Held at the Malco Grandview Theater (221 Grandview Blvd., Madison) the three-day festival, in its 12th year, screens dozens of independent flicks from Mississippi and around the world.
Starting April 1, festival viewers have more than 70 films from which to choose, ranging from two-minute shorts to feature-length films, for their viewing pleasure.
Aside from watching the films, moviegoers can meet the filmmakers, who compete for cash prizes in several categories, hear the soundtracks that intensify the on-screen antics and, Saturday, participate in a filmmaking workshop.
For information about entering a film in the festival, joining or donating to the Crossroads Film Soceity, e-mail [e-mail missing]; call 601-510-9148 or 601-613-6060; or visit the society's website at http://www.crossroadsfilmfestival.com.