Thursday, February 24, 2011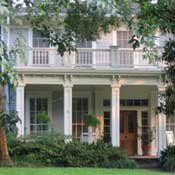 The Jackson City Council voted to approve a grant application Tuesday for federal funds to put Belhaven on the National Register of Historic Places.
The Belhaven community is already a locally designated historical area, but the community petitioned the city to join with the Mississippi Department of Archives and History to begin the process of assessing the many privately owned buildings and public structures in the neighborhood. If a consultant determines that enough buildings have historical merit, the U.S. National Park Service could recognize the city's historic designation and consequently offer tax credits to Belhaven residents looking to renovate or repair their buildings.
"Belhaven is eligible for the National Register, but this is an expensive and lengthy process that could take years. This is only the first part of a bigger effort," said Greater Belhaven Neighborhood Foundation Executive Director Virgi Lindsay. "It is a very intense process."
The total cost of the process, which includes the application fee and resurveying the area is $50,000. Pending award approval, MDAH will disburse $25,000 and the city will match that with $20,000 plus a contribution of $5,000 from the Greater Belhaven Neighborhood Foundation, according to a release from the city yesterday.
Ward 3 Councilman Kenneth Stokes, who voted in favor of the application, questioned Mayor Harvey Johnson Jr. on the process for designating the home of slain civil-rights worker Medgar Evers as a nationally recognized historical place. Evers' home, site of his 1963 assassination by white separatist Byron De La Beckwith, is in Stokes' Ward. Johnson said the city would be moving forward on that process in the near future, prompting Stokes' praise.