Thursday, February 24, 2011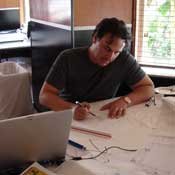 Michael Barranco visited with his friend Sergio Fernandez at River Hills Club last Sunday after a weekend camping trip with his family. Fernandez says Barranco enthusiastically described his recent musical performance at Underground 119, and that people will remember him for his passion--for architecture, for music and for his family.
Barranco, 48, died Tuesday in a one-car accident in Tunica County when his car ran into the back of a tractor-trailer.
"His accomplishments go on and on," Fenandez says. "... So many people talked it, but Barranco walked it. He was a great father and husband, and gave unconditional friendship to all who knew him. He did life right."
In 1999, Barranco founded Barranco Architecture & Interior Design. His firm's work includes the design for the Town of Lost Rabbit in Madison County, the Township at Colony Park in Ridgeland and the master plan for Harbor Walk at the Ross Barnett Reservoir. He used the concept of new urbanism for Lost Rabbit, creating a walkable subdivision that connects residents to amenities, public spaces and homes.
"He was gifted architecturally. His sensitivity to architectural design was impeccable," said Richard Ridgway, his partner for the Town of Lost Rabbit."He has left a legacy in his professional career that is evident for everyone to see."
Beyond his career, Ridgeway says Barranco was a "renaissance man" with multiple talents and passions.
"The renaissance man--which is a rare commodity--is a beautiful joiner of the left and the right brains of the intellectual with the emotional," he says. "He was a full man who loved life and loved those around him."
Barranco was an active participant in the music ministry at Redeemer Church in Jackson, where he led the congregation in songs and sang in the church choir. He was also songwriter who performed at local venues for nearly two decades.
"He had a soulful presentation. He was very R&B oriented, and it was just so powerful when he would sing because it came from his heart," said Steve Lanier, assistant to the pastor at Redeemer Church. "When he would sing praises to God, it wasn't like he was trying to read words. He just closed his eyes and sang. It was beautiful because he was singing to God in front of us, versus to us."
Barranco leaves behind his wife, Jene, his three children and a foster child. His funeral is 2 p.m. Saturday, Feb. 26, at the Performing Arts Center at Belhaven University, which he helped design. Visitation is prior to the funeral at 1 p.m.
Previous Comments
ID

162252

Comment

A very sad loss for Jackson. Rest in peace.

Author

tombarnes

Date

2011-02-24T13:04:30-06:00