Monday, February 28, 2011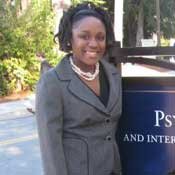 Using a slow and measured voice, Ridgeland High School junior Kristen Dupard confidently recites "The Mother," a poem by Gwendolyn Brooks during the state Poetry Out Loud Recitation contest last year.
Last month, Dupard, won first place in Mississippi's central region Poetry Out Loud Recitation contest. She recited "The Mother," last year when she placed second in the contest and then Rosa Scott High School student John Uzodimna won the state competition. Dupard also won first place in the Dramatic Interpretation and Prose/Poetry Interpretation categories at the Barkley Forum, a speech and debate competition held at Emory University in January.
As she prepares for this year's Poetry Out Loud state competition at Mississippi Public Broadcasting March 10, Dupard hopes her hard work will pay off and allow her to advance to the national competition next month in Washington, D.C. The National Endowment for the Arts created the competition in 2005 to improve reading comprehension and public speaking skills for high-school students throughout the country.
Dupard was born and reared in New Orleans. She moved to Ridgeland in 2007 in the wake of Hurricane Katrina. Dupard also participates in Ridgeland High School's Forensics Speech and Debate Club, Mu Alpha Theta, the Thespian Society and the Key Club. She also plays basketball and is a member of the power-lifting team.
At the Barkley Forum, she participates in speaking events, and congressional and policy debates. She says she focuses on placing well in the interpretation events. Her main event, dramatic interpretation, consists of a seven-to-10-minute dramatic selection. "I usually portray a character that touches someone's heart," she says.
In her competition at Emory, she recited "The Property Known as Garland," a fictional account of events before Judy Garland's final concert, written by Billy Van Zandt.
"I try to figure out what connection I have with the character, and how the character has impacted me," she says "I think about how I can portray that to touch someone's else's life."