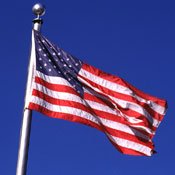 Today is an uplifting start to the Fourth of July weekend if you plan on visiting Celebrate American Balloon Glow at Northpark Mall, an event filled with music, food, and hot-air balloons. Admission is free. If you're looking to enjoy some music, tonight comes loaded with talent and tunes. Blue Party and e.company and are playing at the Ole Tavern's New Orleans music night. At Hal & Mal's, Swing d' Paris is playing in the restaurant, as well as Southern Komfort Brass Band playing in the Red Room. Find more local music at JFP music listings.
Saturday promises to be filled with even more Fourth of July celebration at 10 a.m. at Mississippi Crafts Center (950 Rice Road, Ridgeland). It includes food vendors, crafts and Native American dance and free admission. Independence Day Showdown: Battle of the Bands is at 6 p.m. at Newell Field (Riverside Drive) will surely have explosive performances. HYPERLINK "http://salsamississippi.com/"Salsa Mississippi (605 Duling Ave.) is hosting "Burn the Dance Floor" at 7 p.m. If you're looking for even more things to do, visit the JFP events page.
Sunday provides families with wholesome and entertaining fun. The Southern Soul Summer Fest is happening at 3 p.m. at the Jackson Zoo (2918 W. Capitol St.) and includes music by Clarence Carter, J. Blackfoot and Noo Noo. Take the kids to see the film "Cave of Forgotten Dreams" at 5 p.m. or 7 p.m. at Russell C. Davis Planetarium (201 E. Pascagoula St.), a beautiful survey of the mystical world of caves. If you want to broaden your movie selection, go to the JFP movie finder.
Monday booms with excitement. The Fourth of July Parade is at 10 a.m. at Broadmeadow United Methodist Church (4419 Broadmeadow Drive). Participate or cheer on runners in The Watermelon Classic at 7:30 a.m. at Mississippi Sports Hall of Fame and Museum (1152 Lakeland Drive). Register by July 1. Find more excitement at JFP Best Bets.
Is something missing? To make sure your event is listed on the JFP calendars, send the information to [e-mail missing] or [e-mail missing], or add your event yourself. It's easy!