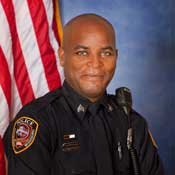 Following a childhood incident in which he encountered a police officer with a terrible attitude, Sgt. Reginald L. Cooper vowed that he would become a police officer himself and would never behave like the officer he met that day.
"A first impression can be an everlasting impression," Cooper says.
To this day, Cooper, a Byram resident, upholds his vow in his work against domestic violence. He strives to handle domestic-abuse cases more firmly and devotedly than he has seen other officers do.
A native of Tchula, Cooper came to the metro area as a student at Jackson State University. His career began in 1999 when he saw an article looking for Jackson Police Department recruits. During his career, he has worked for police departments in Jackson, Yazoo City and Byram.
As a police sergeant, one of Cooper's primary duties is his work on domestic-violence cases. He approaches the cases with a firm hand and a desire to see that justice is carried out in full. Cooper says a serious problem is victims changing their minds after contacting authorities, dropping charges, and getting back together with their abusers, only to be abused again.
He says that the majority of domestic-abuse cases in rural areas involve repeat offenders who are never brought to justice because their victims do not press charges. Many officers, upon encountering a victim refusing to press charges, simply file a report and leave, doing nothing more to help the victim and leaving them open to future abuse.
Cooper is determined to be different and not make it easy for repeat abusers to evade justice. He does not simply give up on a difficult victim and does everything in his power to get them the help they need.
"It was hard for anyone to come to me wanting to drop charges. It's not easy with me," Cooper says. "I was 100 percent for not dropping any charges."
Cooper treats domestic abuse as seriously as he would an aggravated assault or homicide case. Whenever he worked a domestic-violence case, he took pictures, checked medical records, collected statements from witnesses, the victims and the offenders, and made sure he had everything he needed to prosecute the case. His approach to handling these cases sends a message to any would-be abusers that there is someone out there who won't make things easy for them.
"The domestic-violence rates went down because they knew someone was there who was serious about working those cases," Cooper says.
The best way to stop domestic violence, Cooper says, is to not ignore or downplay it and to report any suspected cases of domestic abuse. Police are obligated to take action if there are obvious physical signs of abuse on the victim.
"If you ignore it, someone could lose their life, whether it be the victim or the batterer," Cooper says.
For police officers handling these cases, he recommends always doing follow-ups to let the victim see that you care. Give them a card with a number to call for help, and make sure they know their options-especially for victims who are financially dependent on their abusers.
Cooper wishes he could do even more than he has to stop domestic violence. When he found out about this award, he felt it was the greatest honor and the biggest award he's ever been nominated for. It makes all his efforts worth it.
"I wish I had a second job just working domestic violence," Cooper says.