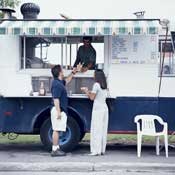 Mobile food vendors may be serving tacos and burgers in the downtown area by the end of July.
Ward 1 Councilman Quentin Whitwell said the council might have a vote on the issue as early as the July 26 regular council meeting, but could not commit to an exact date.
The Jackson City Council Rules Committee passed an ordinance in May allowing vendors to buy an annual $500 license from the city to sell food from a truck, so long as each permit only applies to one selling location, trucks are fully insured, and the distribution and preparation center meets strict guidelines for cleanliness.
Whitwell altered the language of the proposed ordinance to restrict vendors to pre-designated areas in the city, at least 150 feet away from any restaurant entrance. Competing restaurants can waive that requirement and allow a mobile vendor within that space if they so choose.
Jackson entrepreneur Sid Scott wants to open a food truck selling tacos and tortas in the downtown area, and said the new ordinance makes possible a mobile-vending area around downtown Jackson's Smith Park on Amite Street.
"We would love to refurbish Smith Park and turn it into something that people look forward to visiting," Scott said last month. "I think a food truck or two or three would do a lot to increase (park) visitation. The ordinance allows for trucks to park on the road alongside the park."
Whitwell re-introduced the ordinance setting permit requirements last month, despite the approval of the Rules Committee in May. His re-introduction prompted some proponents of the ordinance to fear that the language was in for another exhaustive process of public hearings and debate.
"There have been several changes, (so Jackson) legal counsel asked me to re-introduce the ordinance," Whitwell said. "… They wanted a clean new version, so that's what I offered," The councilman was sure that no new hearings are necessary.
New language requires food truck owners to submit a scaled sketch plan or photographs depicting the proposed pushcart or mobile food vehicle location, dimensions and details of surrounding streetscape elements. It requires a valid insurance policy providing minimum liability coverage of $1 million per mobile-food preparation vehicle and $500,000 for pushcarts, and a food-vending permit from the Mississippi Department of Health, among other requirements.
Vendors will cook most of the food offsite at a stationary kitchen, but prepare the final product on location.
Tom Ramsey, a Jackson chef and freelance writer who wants to open a food truck with partner Scott, said he was glad the ordinance would not be bogged down with more public hearings. He added that the city of Jackson appeared to take too long to pass the ordinance, considering that other cities across the South already have working models of the same ordinance on the books.
"The easiest thing to do ought to be getting out of the way and letting business happen," said Ramsey, who chastised the city for setting permit requirements for some mobile food sellers while ignoring smaller food sellers entirely.
"Go to any juke joint on a Saturday night, and there's a guy with a grill outside selling barbecue," Ramsey said.
"Where's the city of Jackson there? Where's the city of Jackson throwing up their arms and asking if they're hurting people or businesses and asking for a sketch of their barbecue grill?"
Previous Comments
ID

167551

Comment

So any follow up on this story? Does Jackson have food trucks yet?

Author

Nicole Wyatt

Date

2012-03-29T21:55:48-06:00