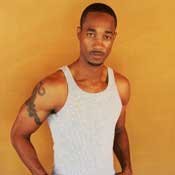 Jackson State University theater professor Yohance Myles is acting with Bruce Willis and rapper-turned-actor 50 Cent.
Filming of "Fire with Fire" began July 6 in New Orleans.
Myles, who began teaching at Jackson State in 2010, is a Birmingham, Ala., native. The 30-year-old holds a bachelor's degree in theater arts from Alabama State and a master's of fine arts in acting from Louisiana State University.
His film and television credits include "The Royal Family," "K-Ville," "Revenge of the Bridesmaids" and "Treme."
While teaching at JSU, Myles also was cast in New Stage's production of "A Soldier's Story" earlier this year.
Josh Duhamel and Rosario Dawson are also cast in the film.