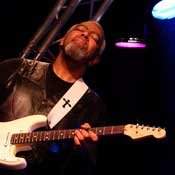 Voted Best New Blues Artist by XM Radio, Jackson native Zac Harmon certainly gets back to his roots in his music. Harmon's cool blues sound is reminiscent of blues giants Elmore James, Muddy Waters and B.B. King.
"Music is my life, and I'm just committed to keeping American classical music alive," Harmon says.
Harmon broke into his guitarist role during high school and college at Jackson State University, where he played with many of his elder contemporaries, such as Z.Z. Hill and Sam Myers. When he moved to Los Angeles in the 1980s, Harmon worked as a writer and producer, writing songs for R&B groups. Harmon produced tracks for Black Uhuru's album "The Mystical Truth", which also received a Grammy nomination in 1994.
Harmon completed his first blues project in 2002, with his "Live at Babe & Ricky's Inn." His 2004 band, the Mid South Blues Revue, won the title Best Unsigned Band at the Blues Foundation's International Blues Challenge.
His next release, "The Blues According to Zachariah," garnered national airtime in 2005. Harmon since has won a number of awards and released more CDs. Harmon has played in festivals around the world.
In 2007, he was named to the Blues Foundation board of directors. He also made his acting debut in 2009 in a major role independent film, "Black and Blue."
Last year, the Mississippi Celebrates its GRAMMY Legacy celebration, with host Gov. Haley Barbour, honored Harmon. He won the Peavey Award for playing a significant role in developing and furthering Mississippi's musical heritage.
Harmon's fans know that the "American classical music" he refers to is none other than his signature beloved blues.
Jackson State University presents "An Evening with Zac Harmon" at its Rose McCoy Auditorium at 7 p.m. July 7. Tickets are $30. For information on Zac Harmon, visit http://www.zacharmon.com, or email him at lbd944@aol.com.
UPDATE: Ticket price for the event now $15.