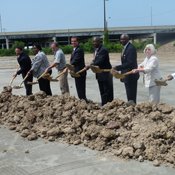 The new JATRAN facility at the corner of Highway 80 and Valley Street will be an important stepping stone in the revitalization of the Highway 80 Corridor, Jackson Mayor Harvey Johnson Jr. said this morning.
Johnson attended the groundbreaking this morning for the $6.8 million facility, which will replace the aging municipal public transit central office on Terry Road. The federal government funded the brunt of the cost, with the city of Jackson kicking in a $743,000 match to qualify for the federal support.
"This is a project that is 10 years in the making," Johnson told a small crowd of reporters, architects and city officials. "I know there has been some question as to whether or not the city of Jackson truly supports JATRAN, but this facility is a testament to the city's commitment to public transit here in Jackson."
JATRAN employees and a majority of council members voted against a budget proposal Johnson suggested earlier this year to consolidate some bus routes to accommodate bus employee pay increases mandated by a union agreement last year.
Johnson said the new facility, which spreads 38,000 square feet over three buildings, will add crucial development to the area and compliment other proposed projects up and down the corridor, such as the renovation of the nearby former Jackson Coca Cola Bottling Plant, which served as the site of the FIGMENT art festival in May.
The Metrocener Area Coalition, a Highway 80 development foundation, and Johnson backed recent, massive landscaping to beautify the area around the Metrocenter Mall, the Terry Road intersection and other places. The Central Mississippi Planning and Development District is working with the city on an economic development strategy for the corridor, which stretches from the Rankin County border on the east to the city of Clinton in the West.
The district released a series of development proposals for business and residential development last year, which include proposals like Showtown West Neighborhood, the former home of the 1950s-era "Showtown West" drive-in theater. Another potential development includes Southport Mall, near the corner of Highway 80 and Ellis Avenue, which is already consolidated under one ownership group, according to Jackson Planning and Development Director Corinne Fox.
The city and CMPPD are also promoting the prospect of a new development in territory near Puckett Machinery, while Johnson is pushing for zone changes in the area that he says will create a favorable environment for scenic business development.
The mayor said the JATRAN project will create 200 construction jobs over the next 18 months, and free up the land at the facility's old Terry Road location for potential development by the encroaching campus of Jackson State University. University officials are pursuing an aggressive expansionist policy in the surrounding neighborhoods that could result in more residential and business housing.