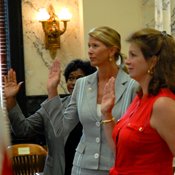 The Mississippi Commission on the Status of Women welcomed five new members yesterday at the state Capitol.
The new commissioners, who will serve four-year terms, are Faye Davidson, Rita Wray, Wesla Sullivan Leech, Joey Albritton and Mary Beth Wilkerson.
While the swearing-in ceremony was Wednesday, the new commissioners had already began working in their voluntary positions.
The commission's goals include improving in women's health, child safety issues, violence against women, discrimination, sexual harassment, child care/support, and business and economic opportunities for women.
Wray feels the work of the commission will continue to better the lives of women in the state.
"(The commission) is very important so we can speak for women who cannot speak for themselves," said Wray, a former president of the Central Mississippi chapter of the National Coalition of 100 Black Women, and present national vice president of the organization.
Each commissioners' experiences ranges from backgrounds in health care to law.
Compared to the rest of the nation, Mississippi has fewer women holding political offices and more women in poverty, facing issues with pay gaps, glass ceilings and childcare.
Wray hopes to promote women's leadership development in the state.
"I think it is wonderfully exciting to see women and mold them to their total capability," said Wray.
Reducing wage gaps in Mississippi is another goal of the commission. Women in Mississippi earn 74 percent of what men earn, with greater wage gaps for black and Hispanic women. Nationally women earn 77 percent of what men earn according to census data cited in the National Women's Law Center.
Because of wage gaps, higher poverty rates for women of working age and retirees occur. The state's poverty level for working age women is twice as high as it is for working age men according to the U.S. Census.
Marianne Hill, chairwoman of the Mississippi Commission on the Status of Women and 
senior economist for the Mississippi Institutions of Higher Learning, believes that the problem of wage equity has not received the recognition it needs but recognizing the problem is a first step to changing the statistics.
"I think the most important thing is to recognize that there is a problem out there, that women are unable to achieve the quality of life that they would be able to achieve if there weren't certain obstacles facing them," Hill said. "I think it's important for (the idea) that women have the right to equal pay for equal work even if the work is of a slightly different character than what a man might do."
The commission is hosting a conference on the status of women Sept. 15 and 16. The conference include guest speakers and a forum on women's issues featuring candidates running for statewide political office are a part of the conference.
For more information, visit the commission's website.