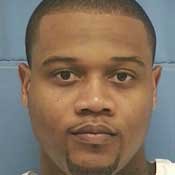 Cory Maye will finally be a free man after serving 10 years in jail for a twisted murder conviction. Circuit Judge Prentiss Harrell of the 15th Judicial District of Mississippi agreed to a plea deal July 1 from Mayes for manslaughter for the 2001 death of Ron Jones Jr. After pleading guilty to manslaughter, Maye was sentenced to 10 years in prison, time he had already served.
Bob Evans, one of Maye's attorneys, told the Jackson Free Press this morning that Maye, who is in a Rankin County facility for processing, should be released one day next week.
"We don't have a time frame. We are all anxious," Evans said.
Columnist Radley Balko, who has covered Maye's case for years, was at the Lawrence County Courthouse to witness the plea deal. His narrative account can be found here at the Huffington Post.
Maye, 30, was sentenced to death for the shooting of a police officer in December 2001. Shortly after midnight, Maye was slipping off to sleep until he heard men attempting to break into his home. At the time, he was living with his toddler daughter and his girlfriend, Chenteal Longino. For his family's safety, he drew out his gun and fired three bullets. Maye immediately recognized he had shot a police officer, dropped his weapon and surrendered.
Police officers were following a tip on a known drug dealer, Jaimie Smith, living in Maye's complex. However, the police were in the wrong place—Smith lived on the opposite side of the duplex.
While the incident occurred three years prior, Maye was finally tried in 2004 in Marion County. His family hired Ronda Cooper, a Jackson attorney who had little experience dealing with cases like Maye's, instead of relying on Prentiss public defender Bob Evans. Maye was charged with capital murder, with the intent of killing a police officer, and placed on death row.
However, in the fall of 2006, attorneys from D.C. law firm Covington and Burling took on Maye's case and with Bob Evans—whom Maye's family finally went back to—convinced Judge Michael Eubanks that Maye had received "inadequate counsel" during his trial. Eubanks threw out the death penalty and sentenced Maye to life in prison without parole.
In yet another twist, in November 2009, the Mississippi Appeals Court reversed Maye's murder conviction on the basis that Maye should have been able to move the trial back to Jefferson Davis County where the incident happened. His attorney at the time had unfortunately asked for a change of venue. The Mississippi Supreme Court upheld the new trial on the grounds that Maye should have been able to offer that he was defending his daughter on the night of the raid.
Read our previous story about Cory Maye.
Valerie Wells contributed to this report.