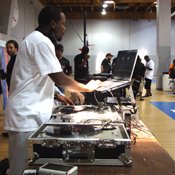 The halls of Jackson State University's T.B. Ellis Gymnasium filled with the chatter of high-school kids this weekend when more than 400 teens convened for the ACLU's Youth Hip-hop Summit. The annual summit combined social justice with hip-hop for a weekend that was educational, creative and fun for the students.
The summit included two types of workshops. The first focused on important social issues affecting teens. The ACLU staff and guest presenters armed them with knowledge about their legal rights and prepared them to make good decisions.
One workshop covered basic financial advice. Other topics included workplace discrimination, bullying prevention, dating violence and sex education. One group drafted a "Student Bill of Rights."
The remaining workshops were all about hip-hop, including sessions on the history of hip-hop, DJ-ing, rap and creative writing, Bboys and Bgirls, and urban art.
Garrad Lee and Jason Thompson, aka PyInfamous, taught one of the rap and creative writing classes.
"How many people in here use music to lift their spirits?" Thompson asked the group, prompting a sea of hands in the air.
Thompson passed out the lyrics to different songs representing four major regions in the United States that display their own brand of hip-hop: East Coast, West Coast, Midwest and the South.
"Each song represents a different region of the country. So, we want to compare and contrast the way these lyrics are representative of their particular region, but see what's the same about them as well," Lee told the class. This emphasis on diversity and unification was a common theme at the summit this weekend.
Students analyzed lyrics much like they would in any high-school English class, picking out metaphors and allusions in rhymes from The Fugees, Common, Goodie Mob, and 2pac. When students stumbled on unfamiliar vocabulary or cultural references, Thompson and Lee used it as a learning opportunity. The lyrics prompted the class to discuss everything from poverty to gentrification to probable cause during a police search.
Thompson and Lee encouraged students to use this approach when listening on their own.
"You can just repeat the words and never really know what they're talking about," Thompson said. "But it's important that we don't just recite it, but learn it. If you hear something you don't understand, or something that's inspiring, go and find out what they're really saying."