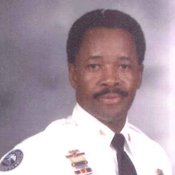 Jackson native Lindsey Horton has been deputy chief of the Jackson Police Department for a decade, a feat unheard of before in the department. Medals, documents and trophies decorate his office. Bars adorn his wrinkle-proof blue shirt, bars indicating his ranks from a patrolman in 1985 to his current position of deputy chief.
"Did you come here for the banquet?" Horton asked, pulling out the Mississippi Legislature's resolution that congratulated his 40-year position as the 8th-degree black belt Grandmaster Sensei of the Jackson State University Taekwondo Karate Club. He started the club in 1971 when he was 18 and in school for his urban-studies degree.
"When we first started out, it was just a small group," he says. "Within weeks, it went wild. Everybody wanted to be Bruce Lee."
For 40 years, Horton led the club, relentlessly educating students in physical and mental discipline. "I got their attention," he said as he raised his hands in a defensive motion, jabbing the air as he spoke for enunciation. "As soon as I got it, I drilled in them to respect their family, respect their community, respect their elders and to respect themselves."
He later took on the position as commander of the JPD S.W.A.T. team and firearms training director and also taught self-defense classes. "I teach them to be very aware of their settings and to watch out for those criminals who attack at nighttime. Those guys are cowards, and I say that with a capital C-O-W-A-R-D." Horton sat straight up in his chair and held his hands before him as if to punch those "shoppers" --his term for robbers--squarely in the face.
"My wife learned a long time ago to not worry about me. She knows that I can defend myself by either shooting or karate," he says. "However, I don't mention the bomb squad as much."
Horton has used his 47 years of martial arts training on the job. The tri-county police departments named him "Metro Top Cop" in 1996 for physically disarming an armed and dangerous shooter.
"This man had a gun pressed against his ex-girlfriend's head," Horton said. "I came up to him and immediately disarmed him with a few jabs."
Horton, 59, plans on retiring in 2023 if at all. "As long as I am able to contribute," he says, "I will remain."
Previous Comments
ID

164042

Comment

Congratulations Deputy Chief Horton and thanks for being not only a Great officer, but also a GREAT neighbor!

Author

justjess

Date

2011-07-11T18:47:37-06:00
ID

164047

Comment

Nice piece. Thanks for this article.

Author

Izzy

Date

2011-07-12T10:52:15-06:00
ID

164054

Comment

Dude sounds like a badace. Tip of the hat to all those who serve in our police force, especially Dpt. Chief Horton.

Author

RobbieR

Date

2011-07-13T14:59:03-06:00
ID

164055

Comment

My brother took karate lessons from him 20 years ago. Nice guy.

Author

golden eagle

Date

2011-07-13T15:27:54-06:00