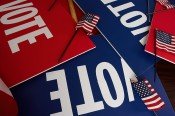 The Mississippi Secretary of State's Office will give citizens the opportunity to discuss three initiatives appearing on the Nov. 8 ballot.
The three initiatives include constitutional amendments that would ban the use of eminent domain to a private developer or project, define human life as beginning at conception, and require identification from voters.
In the metro area, a hearing is July 20 at the Hinds Community College's Clyde Muse Center in Pearl at 5:30 p.m. For information, visit the secretary of state's website.