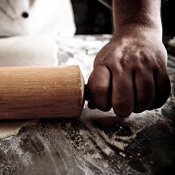 Owner Shonda Harris is moving her bakery and catering business from Northpark Mall in Ridgeland to downtown Jackson.
Opening the first week of August at 111 East Capitol St., My Cup Runneth Over Bakery features coffee, cakes, frappes and caterings services. The bakery also serves breakfast and lunch. Harris will close the Northpark location.
"Jackson is up and coming and it really sparked our interest to move down there and expand," Harris said.
My Cup Runneth Over will be open 7:30 a.m. to 5 p.m. daily. For information, call 601-360-2419.
Smoothie King to Open
Smoothie King, a New Orleans-based franchise, will open at Jackson Place in September next to the Courthouse Racquet and Fitness at 100 East Capitol St.
Smoothie King offers a wide array of blended smoothies, energy bars, vitamin supplements and sports beverages. The company has 600 locations in the United States.
Fondren Cellars Coming
A new wine and spirits store in Fondren is slated to open at 633 Duling Ave. within the next week. Fondren Cellars will offer wine and a full selection of spirits. In addition to a basic selection, the store will have a rotating stock of new and seasonal specialties.
Scott Overby, who co-owns Fondren Cellars with Joseph Johnson, said he hopes to help people expand their palates and their understanding of wine in an open, easygoing environment. Customers can ask staff to help them find a new twist on their favorite wine, interpret labels or find a food pairing. The store will soon have a smart phone application that scans wine labels and provides information about the product.
Fondren Cellars will open as soon as all the products are in, which may be as early as this weekend. Check fondrencellars.com for updates.
Public Art Gets Green Light
Jackson City Council members passed a resolution this morning giving the city's department of Human and Cultural Services permission to enter a contract with the Greater Jackson Arts Council to begins its first public art project.
In March, city officials announced an arts initiative and promised to allocate one percent of all eligible capital improvement funds to public art in Jackson. The first project involves transforming traffic boxes at stoplights around the city into works of art.
Michael Raff, Jackson's director of human and cultural services, said the agreement with the Arts Council will define the fees and the selection process for commissioning artists to do the work. The city is in the process of setting up a committee to oversee the initiative. Raff said that the project's first phase would start in Jackson's 66-block Business Improvement District that Downtown Jackson Partners manages.
"We are going to set up a process on how artist will be chosen to paint the traffic signal boxes," Raff said. "Artists will submit their proposal to this committee, and in return, the committee will act like a jury and decide which artists' work we think should be in downtown Jackson."
Business Workshops
Entrepreneurs have a few opportunities to enhance their skills this week. Today at 1 p.m., The Small Business Administration hosts a Business Development Workshop, at Regions Plaza (210 E. Capitol St.), in suite 1000 in the SBA conference room. The workshop will cover programs available to business owners that are designed to enhance federal and non-federal procurement opportunities, and programs that provide capital, surety bonding, and business counseling. Free, call 601-965-4378, ext. 10 or 11.
On July 14 at 6 p.m., the Mississippi e-Center at Jackson State University (1230 Raymond Road) hosts "First Steps To Starting A Business Workshop." Topics include regulations such as licenses and permits, legal forms of business ownership and basic marketing concepts. Free; call 601-979-2795.
Art Garden Gets Boost
The Mississippi Museum of Art received a donation of $10,000 from Entergy June 28 as a sponsor for the Oct. 1 Town Creek Arts Festival.
The festival celebrates the opening of the museum's Art Garden. When complete, the garden will feature a children's fountain, outdoor dining, garden rooms, performance stage and expansive art installations. The garden has been under construction since December 2010.
Named after the creek that runs through downtown Jackson, the Town Creek Arts Festival features the work of 40 artists and craftsmen, as well as food and live entertainment.
Elizabeth Waibel contributed to this report.