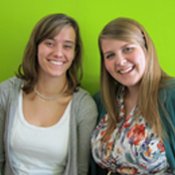 After 240 hours, two design interns at the Jackson Free Press complete their university's requirements today.
Christy Dawson, 22, and Rachel Bush, 21, are graphic design majors at Delta State University in Cleveland, Miss. Part of their curriculum requires an extensive internship that translates into six college credits.
The internship provided Dawson, who is from Clinton, the last credits she needed for graduation. Now, she is preparing for a fall mission trip to southeast Asia. Later this year, she's planning to visit friends in Colorado and look for a job out west. She always carries a sketchbook and plans more projects.
"I'm illustrating a children's book," she says.
Bush, 21, is a senior at Delta State, where she is the layout editor of the school paper. She is double majoring in graphic design and photography, which could mean another year of school.
"Our thesis project is an art exhibit," she says. "I might be a fifth-year senior."
Bush also finds time to work on a independent monthly publication, "The Skinny," that covers music, art and business in Cleveland. The paper recently ran a story about a new knitting shop opening. The website name reveals some of the paper's personality: KeepClevelandBoring.com.
Working on ad designs and page layouts at the Jackson Free Press taught the interns some unexpected lessons. Bush says she learned a lot about time management.
"At school, we have longer deadlines," she says. She's also learned new tricks and new tools for creating images.
Dawson says she learned much about working with clients. "Sometimes you have to learn a different language," she says. "I didn't realize we used jargon."
A non-design person, for example, asked Dawson to adapt an ad. "Make it pop," was the request. Dawson had to figure out what that meant.
Another real-world challenge for the interns was to put aside what they like in a design, Bush says. What the customer wants takes precedence.
Kristin Breneman, the JFP's art director, said the two Delta State students had the longest stay of any interns she has worked with because of the 240-hour requirement.
"They've been a joy to work with. I'm going to miss them," Breneman says. "We created a bond and meshed our work styles."