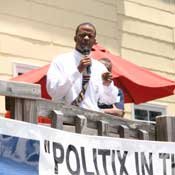 Robert Amos doesn't give up easily. The 37-year-old lost the Jackson mayoral race in 2009, but he is determined to replace Hinds County District 3 Supervisor Peggy Calhoun in the November election.
Amos is the director of the pharmacy technician program at the Jackson Enterprise Center. He has owned two businesses, L & R Enterprises, which specialized in background checks for businesses, and a carpeting and flooring service. He has also worked as a school-attendance officer, a student-finance officer at a vocational college and an adjunct professor at Jackson State University.
Why do you want to run for supervisor?
I am a native of Jackson. Each day I wake up and see that our city doesn't have to be this way--our county doesn't have to be this way. My background and credentials will bring diversity to the board of supervisors. I can help contribute to solving the daily problems we encounter. I'm needed.
What did you learn from your run for mayor?
I learned that you had to build relationships with people. I learned to stick to my beliefs. I've always been a Democrat, but I tried to use the strategy of running as an independent to get to the final ballot. I won't say if that was good or bad. I also learned to include every segment of the city.
If you are elected, what specifically can you do to bring more jobs to Hinds County?
When you create jobs, the first thing you have to do is bring in businesses in the area. To do that, you have to uplift the community, because no business wants to go where they can't succeed.
What can you do differently than the incumbent Peggy Calhoun?
I don't see any visual progress in the last 12 years. The board likes to gloat about the new Byram/Clinton development that is years down the line. We are talking about today. There is no visual economic growth in District 3, which consists of all of Jackson. We have to attract businesses in District 3, and with my track record, I have created relationships with various businesses in the tri-country area.
With an expected budget shortfall for next year--already the county has had to furlough employees--how would you prioritize the budget?
We have to generate revenue. We know we're not expected to get additional dollars from taxes. My campaign and I have been talking about a commuter tax for county employees who live outside Hinds County.
At a time when many employees have had to work second jobs to make up for furlough days, do you think that's fair?
That's another conversation in itself--about furloughs. It never should have happened in the first place. If (the board) had come with up a savings plan, they never would have had to lay off county employees. ... What I don't think is fair is that individuals take county money to other counties and build up those communities.
What do you think the county should fully fund?
We can't jeopardize public safety and infrastructure and, certainly, county employees should never be furloughed again. Public safety has to be funded. We have to improve our roads and bridges, and county employees need a workable wage. If they don't have a workable wage, they can't spend money in the county.
What would you do to address recent accusations of abuse at the Henley-Young Youth Detention Center?
I think an investigation needs to be done.
Is the answer to send teens to Henley-Young, or are there alternatives?
My role as a supervisor may be limited, but my role as a human being has always been to advocate education and dropout prevention. ... Idle time is what's happening--there is nothing for them to do. That's not the only reason people commit crime, but if you can engage them all day, they don't have time to do anything illegal. ... There are some great counselors at Henley-Young but obviously someone has missed the boat--something has gone wrong.
This month the Hinds County Economic Development Authority will lead a three-day process to brand Hinds County. What do you think about spending taxpayer money on a branding campaign?
Before this community can brand itself, we have to change. People have to get workable wages. That also means education priorities have to change, and crime has to significantly drop. ... If you do those three things, you rebrand yourself.