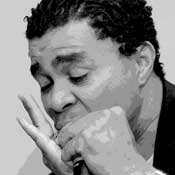 Grady Champion approaches the microphone like a gun fighter ready to take you out. His belt, laden with harmonicas in various keys, one for each of the keys he sings in, sits at his waist.
"I come in strapped down just like one of those old Mississippi cowboys," he says.
To see Champion live isn't a typical concert experience. For one, you cannot confine him to the stage. "I love people," he says. "I want to be with the audience."
It's the explosive energy Champion brings to each and every show that has catapulted the Canton native to mainstream success. His first single, "The Weight of the World," from his new album, "Dreamin," recently hit No. 1 on the American Blues Top 20 chart.
Champion is the youngest of his father's 28 children. He says his dad was a loving, attentive father, although he died when Champion was only 3 months old.
"It's hard to believe, but I look up to my dad and can't imagine loving someone as much as I do him, even though I never got to know him," he says.
Champion and his family moved to the Miami, Fla., area when he was 15. Although he later returned to Mississippi and graduated from Canton High School, Miami left its mark on Champion. The Miami Beach rap scene first caught Champion's attention. Starting as a promoter and eventually becoming a rapper, Champion, under the name MC Gold, signed with Sun Town when he was just 19.
The rap scene in Miami didn't hold his attention for very long, however; Champion wanted to play to a more mature audience.
"I was hanging out with a guitar player in Miami who introduced me to the public radio station down there. It was this station that introduced me to blues artists like Sonny Boy Williams, Muddy Waters and Howling Wolf," Champion says. These artists inspired Grady to start singing the blues.
In true Grady Champion style, he didn't want to be limited to singing. Grady bought his first harmonica in 1994. "I loved the sound of the harmonica and it was easy to carry around and practice anytime," he says.
And practice he did. While working at a publishing company, Champion practiced on his breaks. "I knew that if I was ever going to be any good, I had to practice all the time," he says.
The blues greats that Champion heard on that Miami radio station aren't his only influences. He credits his mother as one of his strongest inspirations.
A successful music career takes a certain discipline that Champion extends beyond his own behavior to that of his band.
"I have this song, 'Wine and Women Don't Mix,' and I know that there is a lot of foolishness going on in (the music) business. I have a strict rule: No drugs ever, and no drinking before a show. That goes for me and my band," Champion says. He doesn't drink at all—he makes the rule for the band.
Champion began playing in Jackson at the now-closed 930 Blues Café in 2001. He recorded his first live album, "Back in Mississippi Live," there.
These days, when Champion is in Jackson, you will find him at Underground 119. He has committed to playing once a month from September to December at the downtown venue. Champion is kicking off a national tour and will return to the Jackson area this fall.
"I want to take my audience to a place they can enjoy and forget all their cares," he says.
Don't expect Champion to stay behind the microphone forever, though. "I want to be a positive influence and be part of the change happening in Jackson," he says. "I want to be able to find local talent and give them an avenue for success."