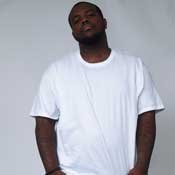 One of my main concerns has always been being cool. It is certainly debatable if I achieve that, but I do put a good amount of thought into presenting myself in a certain way and surrounding myself with people I think are cool. It sounds shallow, but sneakers, hats, records, cool friends—these things matter.
As a quasi-hip-hop journalist and Jackson hip-hop insider, I continually find myself in cool situations. It's a fringe benefit of my chosen path. A couple of weeks ago, I was in another one of those cool moments when I sat down with Jackson rapper and all-around cool dude Coke Bumaye for lunch at Rooster's to talk about his new release, "Translation 2: Limited Edition."
Fans of Coke (aka Corey Stokes) are well aware of his "Translation" series of mixtapes: "Translation 1" and "Translation 2." His high-energy street tales about life in Jackson blend effortlessly with lyrical skills that are on par with any purists' tastes. As Coke, 25, likes to say, he's "sneaking the streets onto the backpackers and sneaking some knowledge into the street cats."
"Translation 2: Limited Edition" picks up where last mixtape left off, but with one twist. Instead of moving the series forward with "Translation 3," Coke wanted to give his fans "something special." So, he talked to the fans and listened to their suggestions to create a project that is, in many ways, a collaboration with his supporters. "I let the people A&R the album," he says. "Listening to the fans should be the focal point of all artists."
The result of this approach is a mixtape that sounds familiar and fresh at the same time. A lot of the suggestions Coke heard had to do with songs on the first "Translation 2" that were too short. The people wanted more, so "Limited Edition" features extended tracks with new verses, some different guests and remixes. There is also a collector's edition that is bundled with a T-shirt and sticker.
Even though the subject matter in Coke's music is on the gritty side, he can't be lumped in with any number of other rappers whose credentials are questionable. "I reflect on what's really going on. I show it," he says.
What makes Coke Bumaye real, though, is his ability to work with the definition of real within his own parameters. "I'm not into the same stuff that I used to be into," he says. "Music is now second to family. If my son says it's movie night, then it's movie night, and I don't go to the studio. Those kinds of situations are also in my music." That's as real as it gets.
All of this helps to explain the unique connection Coke has with the people that listen to and feel his music. Coke is bigger than just his songs and is often referred to as the leader of a movement in Jackson, a designation he accepts only partially.
"It's hard to say that I am the leader, because a general is not on the front lines. I'm right there with the people I am trying to reach. I'm just the one that can talk good," he says, laughing.
It is inspiring to hear a musician who is more concerned with his community than with merely himself. As one of Jackson's brightest stars, and one who is possibly poised to break out onto the national scene, Coke keeps a very humble attitude: "Making it out is not what I am trying to do. I am trying to bring us in."
Download "Translation 2: Limited Edition" at cokebumaye.bandcamp.com. Follow him on twitter @cokebumaye to find out where to get the special collector's edition of the mixtape.