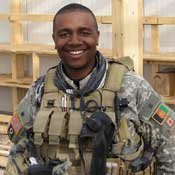 Hoping to attract voters who are undecided in voting for Democrats or Republicans, Independent candidates Will Oatis and Bobby Kearan are looking for a piece of political action.
Will Oatis, Independent
Independent candidate Will Oatis, 37, was born in raised in Silver Creek. He has a bachelor's degree in history from the University of Southern Mississippi. He spent 20 years in the U.S. armed forces including three combat tours in Afghanistan over the span of eight years. Oatis has more than 20 military awards, including a Bronze Star, a Global War on Terror Expeditionary Medal and the Global War on Terror Service Medal.
He helped with post-Hurricane Katrina clean-up and searched for hurricane victims. Oatis started a fund that has awarded 10 scholarships to Mississippi students. One recipient has gone on to receive her doctorate.
Oatis chose to run for governor because he is fueled by a passion to make Mississippi great. He feels that the three biggest issues facing Mississippi are over-reliance on the federal government, rising unemployment and the worst education system in the country.
His platform includes school-system reform by creating sensible budgets, implementing a pre-K program without raising taxes, and equipping teachers to do their job effectively and produce results. To tackle unemployment, he wants to shift our economic development strategy to bring in big corporations to the state and offer incentives to small businesses.
Oatis supports drilling in the Gulf of Mexico to create jobs and reduce dependence on foreign oil. He is a strong supporter of the Second Amendment. He does not support the use of eminent domain for private development purposes. Oatis says that the respect for private property is a fundamental American principle.
More at http://www.willoatis.com.
Bobby Kearan, Independent
Courtesy Bobby Kearan campaign
Reform candidate Bobby Kearan moved to Mississippi at the age of 10. He grew up in Winston County and attended Louisville High School. He is a "computer guy" who lives in Rankin County and works for a Mississippi-based financial institution. He manages its software security updates.
His campaign motto is "One of the People, for the People" and he approaches his candidacy from the perspective of a working man.
Kearan, 39, supports cuts that would leave a smaller, more efficient government, and state payroll reductions more aligned with the state's median income.
He would like to see the state act first to handle business within the state. He believes Mississippi should control all matters within its borders, including health insurance, traffic laws, industry and financial regulations.
He supports education reform that would include a fully funded educational system, a statewide pre-school program and emphasis on critical thinking skills. He would initiate a financial course to teach kids how to handle money.
Kearan supports tax reform to create fair-share responsibility, a cap on deductions, cut spending and would investigate the potential for changes in the state's tax code and across-the-board minimum tax rates. He believes in free-market capitalism, and would look to close special interest loopholes and tax giveaways.
He supports health-care reform, job creation and improvement, prison reform and election reform, instant runoff elections. Kearan proposes a yearly policy referendum that allows voters to give opinions on proposed changes in the law. He would investigate a high-speed rail and increased public transportation to service rural and suburban areas to help decrease traffic congestion, increase worker availability and help us attract and keep businesses in the state.
He supports reform of the alcohol regulations in Mississippi and a referendum on legalizing marijuana within Mississippi. He says the legalization of marijuana would eliminate a lot of violence and crime, save enforcement costs, provide a valuable crop for farmers, a medicinal purposes, and the leftover plant material may be able to create bio-crude.
Kearan supports education on contraception, the consequences of unprotected sex and abortion alternatives. He states that although abstinence-only is preferred, it's not working and we need to protect our children with knowledge. He strongly opposes the personhood referendum that may be on the 2011 ballot. He believes the government should not have a say in the abortion debate, aside from ensuring that procedures are safe.
More at http://www.bobbykearan.com.
Back To Top
Previous Comments
ID

164103

Comment

Thank you for the article. I pay a great deal of attention to detail, so... I am a Reform Party candidate, not technically an Independent. The Payroll cuts I propose are to the major elected officials. My proposal would tie the salary of Governor, Lt. Gov, Treasurer and a few others to the Median Income of the state - providing incentive to improve the Median Income of our working people. No COLA or yearly raises - just a yearly adjustment. If the Median Income goes down, pay goes down, if the Median Income goes up, pay goes up. The across-the-board minimum tax rate (1%) would be a 'lowest tax amount' that deductions and exemptions could not lower the tax bill below. It would exempt the first 20k in income for individuals and businesses and also exempt some amount of payroll for businesses. I am happy to answer questions and love to hear comments and opinions at the website in the article.

Author

BobbyKearan

Date

2011-07-19T09:42:04-06:00