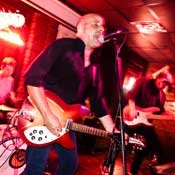 Music fans around the world admire Paul Collins, but he's not sitting still to receive their praise. The New York City-based guitarist and singer has been recording and performing for more than 30 years, and is still most often found on stage. Collins plays power pop, a genre he helped develop in the late 1970s that focuses on strong melodies and high energy. But while many of his early contemporaries have scaled back their musical work, Collins just keeps getting busier.
"I'm in full gear right now," he notes. "I'm working more now than I have in 15 years."
His fans have long known Collins as a singer and guitarist, but he started out as a drummer in his teens. Wanting to break into music professionally, he left his New York home in 1974 for San Francisco. He soon met bassist Jack Lee and guitarist Peter Case and formed the Nerves. In a time when many groups were recording songs that were 10-15 minutes long, Collins and his bandmates focused on writing succinct songs with strong hooks.
"Every second in a song would be gone over until it was distilled down to its absolute bare minimum with no fat, no frills, just the essence," he says.
The band recorded and self-released a four song EP, which featured Lee's song "Hanging on the Telephone," later covered by Blondie. The Nerves also went on a nationwide tour they booked themselves.
"None of us had a phone in our name," Collins remembers. "The whole tour was booked at a pay phone."
The band's "do-it-yourself" practices were unheard of at the time, but they were later used by countless bands that came after them.
After the Nerves broke up in Los Angeles in 1977, Collins formed The Beat, a group that he led on guitar and featured his song. The Beat's 1979 self-titled debut album marked his emergence as a master of the power-pop sound. While not a hit at the time of its release, "The Beat" is now seen as an essential power-pop record, featuring many of Collins' most well known songs, including "Rock n' Roll Girl" and "Walking Out on Love."
The Beat recorded and toured throughout the 1980s before calling it quits at the end of the decade. After a slow period during the '90s, Collins re-emerged in 2004 with "Flying High," an album that re-focused him on his signature sound. Returning to the road, Collins connected with younger musicians who had been influenced by his early work and were creating their own take on the music.
"Power pop today is not the same as what is was when I started," he says. "There are new variations. Some are more melodic, some more punky. It's going into its second generation and it's been marginalized for a long time."
As a way to push back against this, early last year Collins started the Beat Army, a Facebook page that brings his fans and the wider power pop audience together and rallies them to support the music by attending live shows and buying records. "It's a place to show the outside world that it's not just a handful of people," he explains.
The guitarist also continues to record. His most recent album, 2010's "The King of Power Pop," was a way for him " ... to connect the dots from the work I did with the Nerves to today," Collins says. Recorded in Detroit with producer Jim Diamond (best known for his work with garage rockers The Dirtbombs), the album includes songs Collins wrote throughout his career, as well as some new compositions.
Collins also has a new release with Mississippi connections. While touring through the state last summer, he recorded two songs with Bruce Watson of Fat Possum Records at Watson's studio in Water Valley. They were released in May on "Who, Dear?", a single on Big Legal Mess Records (a Fat Possum imprint) with cover art by Oxford painter Glennray Tutor.
Despite his busy recording schedule, Collins continues to put most of his energy into performing live. One of the ways he maintains his momentum for his energetic shows is by continuing to connect and perform with younger musicians. "It keeps me in the here and now and keeps me young in a way," he says. "Hanging out with all these bands, you feed off of the energy."
The Paul Collins Beat tour of the South will stop in Jackson at Ole Tavern (416 George St., 601-960-2700) Friday, July 15. Fellow power popsters Missing Monuments, led by legendary New Orleans musician "King" Louie Bankston, are also on the bill. For the latest on Collins, visit thebeatarmy.com.