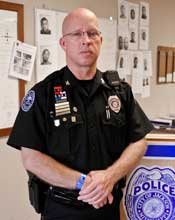 Jackson Police Department's Precinct 4 Commander Wendell Watts' uncle, Wayne Black, told him that he could expect one of two things to happen when he began his law enforcement career. "He said I would either love the career and it would be all I wanted to do, or I would hate it and quit but respect those who did the job," Watts says.
After more than 20 years on the job, the former is where Watts finds himself today.
The commander has spent almost all of those 20 years with the Jackson Police Department. He has held the position of commander of Precinct 4 less than a year. As of 2008, Precinct 4 contained 1,176 businesses in the area. It is bordered to the south by Fortification Street and in the north by County Line Road. The precinct stretches east to the Pearl River and west by the railroad tracks on West Street.
"I am happy with the results we are seeing so far," he says.
"There were some real problems in the department before I arrived. With the support of the mayor and the chief, we are making real progress."
Community policing--a system that includes cooperation between citizens and private business to assist police--is an important component of Watts' plan to make Precinct 4 the safest in the city. "I was using community policing early in my career before it became a popular term. We earn the trust of the citizens and educate them on the assistance we need," he says.
Each month at the Precinct 4 Community Oriented Policing Services (COPS), Watts gives updates on the department's activities and crime reports.
Watts was drawn to JPD because of the crime and blight he saw as he drove through the city after graduating from Hinds Community College.
"I realized when I drove through neighborhoods with boarded up windows and burglar bars that those are the people I want to protect--the people who cannot just sell their homes to leave the crime that has surrounded them," he says.
People in the precinct know Watts for giving his cellular phone number out regularly to citizens. "I want people to call me if there is an issue," he says. "It doesn't matter the time of the day. If their issue is crime related or officer related, I want to know about it so I can try to fix it."
Watts is married with three children. When his 12- and 14-hour days allow personal time, he can still be found with a gun; however, the guns in his spare time are loaded with Nerf bullets and the targets are his teenage son and friends.