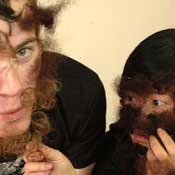 When they perform, the visual is as interesting as the sound. With a stage full of shiny instruments, Ammo Eisu and Andy Tisdall of the band Zoo put on a loud, physical show, leaving many surprised that two people can make so much noise.
"It's pretty physical because we're always switching instruments and moving around and changing where we are," Andy says.
On July 16, the female and male duo from San Francisco brings their mix of "indie-rock, folk, punk, looped rhythms and emotional outbursts," to Sneaky Beans on North State Street.
They also bring their "orchestral junkyard" (including banjos, cellos, horns, bent electronics, guitars and more) and sing about the "now-minutiae" of life in a creepy and yet sweet fashion.
The Tender Tour is the first national tour for Zoo. They're making a "big America loop" starting in California and literally looping around the U.S.—stopping in Texas; New Orleans, La.; New York City; Boston, Mass.; and Jackson. So far, the band has booked about 30 shows for July and August.
During their hectic booking process, the two decided they'd stop in Arkansas and New Orleans where they have good friends. Jackson became the next place to stop after the two came across Sneaky Beans where some bands they like and their band friends have performed.
"We both try to bring our own version of this very impassioned feeling to our shows," Ammo says.
The July 16 show at Sneaky Beans starts at 8 p.m. To listen Zoo's music, visit http://www.zooisaband.com.