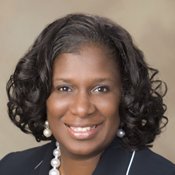 Linda Rush is passionate about establishing equal educational success for all children and making a difference for the young people in the Jackson area.
"Education is a foundation to a passport of success," Linda Rush says, "Although we are associated by wards, we are all accountable for the educational structure of our children."
A West Point native, Rush, 47, made her way to the Jackson area to attend Jackson State University. She earned her bachelor's degree in political science from Jackson State University in 1986 and a master's degree in education administration and supervision in 1998.
"Being from a small town, I was intrigued with the big city lights," Rush says laughing. "Jackson gave me the opportunity to explore and expand possibilities beyond my hometown."
Rush, director of undergraduate recruitment at JSU for the past eight years, takes on many other roles in the community. On campus, she is the primary advisor to Tiger Pride Connection, a student-based organization, and primary advisor to the Delta Pi chapter of Delta Sigma Theta sorority. She is also the youth director at College Hill Missionary Baptist Church, president of the Parent Teacher Association at Siwell Middle School and a Jackson Public Schools board member.
"As the PTA president of Siwell, it has been my pleasure to motivate and encourage student performance," Rush says, "I have a team of great individuals that allows us to make accomplishments every day at Siwell." The PTA at Siwell is responsible for providing incentives, promotional items and school supplies that complement the educational process. "My duty is to make sure that the educational process of children are being met," Rush say.
A resident of Ward 6, Rush is pleased with the progress the community is making. "Ward 6 has recently been provided with our own police station, so, of course, safety is always a good measure of having a great homestead within your ward," Rush says. "I would love to see more things geared toward our young people. As a ward, if we can provide positive entities that reinforce their strengths and that they can benefit from, then the whole community benefits."
Rush is married to Timothy Rush, Sr., and they have two sons.