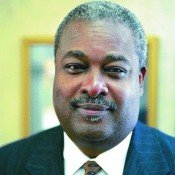 City officials can warn residents directly about fallen trees and broken power lines during storms and other emergencies. A new system quickly delivers messages by phone to targeted areas of Jackson or to the entire city.
The city of Jackson recently contracted with Emergency Communications Network to license its CodeRED high-speed notification solution and the CodeRED Weather System. Individuals and businesses add their phone numbers directly into the system's database if they want a call during emergencies. You have to choose to add your name to get the service.
"This is a great way for the city of Jackson to let citizens know about emergency situations that could arise very quickly," Mayor Harvey Johnson Jr. said in a statement. "CodeRED has most residents' telephone numbers in its database, but we urge residents to supply their information on the sign up page located on the city of Jackson website (http://www.jacksonms.gov) to be certain they receive calls in the case of an emergency."
CodeRED Weather Warning automatically alerts residents who opt in to the database and who are in the path of severe weather just moments after the National Weather Service issues a warning.
Residents have a menu of disasters to chose from: They can sign up for tornado warnings, severe thunderstorm warnings and flash flood warnings. Residents may opt to sign up for one or all three types of warnings. They can modify settings online at any time.
The Caller IDs will read "Emergency Communications Network" or 866-419-5000 for CodeRED calls. For CodeRED Weather Warning calls, either "Emergency Communications Network" or the number 800-566-9780 will appear on Caller ID displays.
If a resident misses a call they can simply dial the number displayed on their Caller ID to hear the last message delivered.
The city's news release states this will greatly reduce the number of inbound inquiries the city handles.
To enroll, log onto the City of Jackson's website (http://www.jacksonms.gov), and follow the link to the "CodeRED Community Notification Enrollment" page. Those without Internet access can call 3-1-1 from 7:30 a.m. to 5:30 p.m. Monday through Friday. Required information includes first and last name, street address (physical address), city, state, ZIP code and primary phone number.
The city says the data it collects will only be used for emergency notification purposes.
Jackson in 'Top 100' List
Jackson is one of the "Top 100 Places to Live" a recent report indicates. RelocateAmerica, a real-estate marketing company, included Jackson in its 14th annual listing of the top communities in the United States. No other Mississippi cities are listed.
The company is promoting its website, http://www.RelocateAmerica.com and encouraging visitors to vote for the top 10 places. The company will decide on the winners July 31 and announce the top 10 Aug. 2.
Previous Comments
ID

164093

Comment

"Jackson is one of the "Top 100 Places to Live" a recent report indicates. RelocateAmerica, a real-estate marketing company, included Jackson in its 14th annual listing of the top communities in the United States. No other Mississippi cities are listed." I will bet a million dollars of cold hard cash, that I do not have, that Channel 16 did not report this to the masses

Author

Duan C.

Date

2011-07-18T08:51:29-06:00