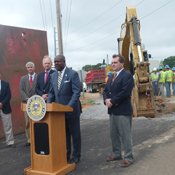 Jackson officials broke ground this morning on a $3.5 million infrastructure project that will increase the city's water supply.
The city will install a 48-inch water line in three segments from Mississippi Street to Silas Brown Street. When all segments are complete, the line will flow to south Jackson where residents currently rely on a well system. The new line will provide water from the O.B. Curtis water plant.
"This means we will have a reliable source of water flowing to south Jackson," Mayor Harvey Johnson Jr. said at a press conference this morning. "This will put everyone in the city of Jackson on a service supply which comes out of Ross Barnett Reservoir. Wells have pumps, and sometimes they can break down."
Each segment will also cost an additional $3.5 million, Johnson said. The city has budgeted money for the project's first phase and is also working on securing additional funds for infrastructure improvements through refinancing the city's bond debt. Johnson said the city is also working out the details of $6 million bond the state Legislature issued last year.
Johnson announced last year that the city plans to spend $29 million on infrastructure repairs over the next year and a half.
Several of the city's water lines burst in January 2010. A series of severe winter freezes ruptured about 150 water mains, despite the city's roughly $100 million investment in water-system upgrades over the past 12 years.
The city is also in the planning stages of installing a critical 54-inch water main near the O.B. Curtis water treatment plant. In June 2010, the pipe burst when a temporary cap blew, which resulted in dumping thousands of gallons of water, reducing water pressure and setting off a boil-water alert.
The city is currently repairing a water main break on State Street in front of the University of Mississippi Medical Center. City Public Works Director Dan Gaillet said crews have finished the repairs and are filling the hole with dirt. Once the dirt settles, city crews will repave the street. Gaillet said he anticipates that the work will be complete by the end of the week.