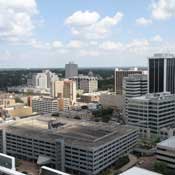 CORRECTION: We described circa, a store in Fondren, incorrectly. We should have said it is a lifestyle store.
Bloomberg Businessweek is reporting that the city of Jackson's robust hospital-based economy, its universities and its role as a seat of government helped rank it near the Top 10 list of the nation's strongest metro economies compiled by the Brookings Institution.
"Employment in the Jackson metro peaked in the fourth quarter of 2007. Gross metropolitan product in the second quarter was down 3.8 percent from the peak in the third quarter of 2008. Home prices grew 2.8 percent in the second quarter compared with the same period a year earlier. And the unemployment rate in June was 7.9 percent, up 1.5 points from a year earlier," Bloomberg reported.
U.S. metros across the nation were least touched by the national recession, but Jackson handled it better than most.
The metro area ranked 19 in terms of job growth, and its home prices appeared to weather the economy and remained stable. Bloomberg did not make clear if suburb home prices factored into home price stability. Bloomberg reports that unemployment hit metros last. Jackson ranked No. 1 in terms of unemployment change since employment in the area peaked in the fourth quarter of 2007.
Partnership announces Woodrow Wilson Development
The Greater Jackson Chamber Partnership announced last week the launch of a five-mile development linking Interstate 55 to Interstate 220.
The Partnership intends the Mississippi Healthcare Corridor project to include an expansion and redevelopment of Hawkins Field, the development of UMMC's projected bio-medical research centers on Woodrow Wilson, and a host of new health care institutions. The development, which is in its infancy stages and does not have a timeline for completion or funding sources, will also include neighborhood redevelopment, as well as hotels, restaurants and "night life."
Along with new businesses, Woodrow Wilson Boulevard would benefit from new signs, green space, landscaping and lighting.
One of the springboards for the project, UMMC's bio-medical research center, which is proposed for the space now occupied by the old farmer's market, is on hold for the moment while the university gathers more funding, according to UMMC spokesman, Jacks Mazurak. Mazurak said Congress cut federal earmarks identified for the project earlier this year.
"As yet, it's unclear when those funding opportunities might resume," Mazurak stated.
Numerous businesses such as Belhaven University, UMMC, The Jackson Medical Mall Foundation, Entergy and Baptist Health Systems are partnering their support for the endeavor.
Circle of Circa
Circa, a local business that calls itself a lifestyle store, nabbed Niche Magazine's 2011 Top Retailer award in social networking. The national fine art gallery and retail magazine offers an award for the best retailer using social networking or viral marketing, which reflects the company's extensive use of Facebook and Twitter to promote their latest offerings.
"To win national recognition after being open for such a short time and for simply doing what we love is phenomenal," stated Circa owner Craig Escude in Jackson publication Find it in Fondren.
Escude said he considered the NICHE Award to be "the highest recognition" for production and limited-edition craft works made in the United States and Canada.
Entergy Spreads the Wealth
Entergy Mississippi Inc. handed Jackson State University $50,000 last week for use at the university's College of Science, Engineering and Technology. The grant will go to JSU's Entergy Power Systems Laboratory and scholarships for the university engineering students.  
The power company committed $400,000 to the university in 2009 in hopes of encouraging the education of engineering students, who are desperately needed to replace the retiring engineering workforce.
Public Service Commissioners complain that power companies like Entergy are charging their rate-payers for the cost of the grants, and that company stockholders should fund the entirety of such grants. Entergy spokesperson Mara Hartmann said stockholders already cover most of the company's donations. She added that donations only cost Entergy ratepayers 15 cents per customer, per month, while filling a vital role in hard economic times.
Latino Business Association Meeting Next Week
The Latin American Business Association will hold its monthly meeting July 28 at Lingofest, on 1048 Old Canton Road.
Lingofest owner Israel Martinez said he helped form the association with Alvaro Guevara, owner of Custom Tailoring by Al, in Madison, and others, because of the growing need for business advice among Jackson's Latino community.
"We wanted to know how many businesses we have in the area. We know there are over 50 (Latino) businesses in the area, and we want to help the local community grow and expand," said Martinez, who said the meetings are not limited to Hispanics, but any business-owner looking to gather knowledge on running a small business operation.
Martinez said the organization's second meeting this month will serve to help collect a metropolitan-wide directory and website connecting member businesses with one another. He says the organization, which is independent of the Mississippi Hispanic Chamber of Commerce, will also train members on getting business loans and keeping bills paid.
Interested parties may send an email to [e-mail missing] for more information.
Previous Comments
ID

164109

Comment

Update: The above story did not include the information that this list was compiled by the Brookings Institution and did not originally link to the piece on Businessweek. We apologize for the omissions.

Author

DonnaLadd

Date

2011-07-19T18:17:35-06:00