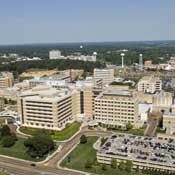 The University of Mississippi Medical Center has received a $450,000 grant from the W.K. Kellogg Foundation to provide Delta residents with oral health care and health education.
Since 2001, the UMMC's Mercy Delta Express project has offered services and health fairs in the Mississippi Delta through a donated school bus. The grant will allow the bus to be used as a fourth school-based clinic. The nursing school currently manages three health clinics at Johnson and Brown Elementary schools and Rowan Middle School in Jackson.
"When school starts, we will begin at the Head Start in Mayersville where there is no health-care provider at all," Dr. Lisa Haynie, professor of nursing and director of the MDE project, said in a statement. "Then every week we'll visit the elementary school and high school in Rolling Fork and the middle school in Anguilla. We'll be able to follow these kids through the electronic health record from beginning of school all the way through high school."
The grant will pay for supplies and staff for the clinic. Haynie will spend at least one day a week in the Delta and other staff members include a full-time nurse practitioner, a registered nurse, a health educator and an outreach liaison.