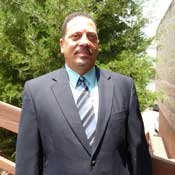 Retired Mississippi Bureau of Investigation Lt. Johnnie Bowden, 58, says he's running for sheriff and plans to put new emphasis on drug-related crime prevention in the county.
"Most crimes are related to drugs in some kind of way," Bowden said. "Focus on reducing drug abuse, and you'll reduce overall crime in the county."
Bowden retired in 2009 as special agent in charge of MBI's central district, an area that includes Hinds and nine other counties. His retirement, he said, has given him enough time to look around Hinds County and identify potential improvements in the sheriff's department. He said the recent firing of guards at the Hinds County jail indicates an overall lack of training and priorities among some employees.
"The sheriff has had to fire deputies because they put some guy in the hospital. This isn't something that's just started," Bowden said. "This is something that I bet has been going on for 20 years."
He said a stricter hiring protocol for guards and county employees would weed out unfavorable personality issues.
"You have to make sure that the one's working for you are under the understanding that they represent the sheriff, and that the only way you can represent me as sheriff is to treat people in accordance with how you want to be treated," Bowden said.
In a blended marriage with 10 kids, Bowden claims he can increase the visibility of deputies all over the county—not just in the city of Jackson—by using all the volunteers and reserve officers available to the sheriff's office. He said that placing such non-paid individuals more strategically throughout the county in patrol vehicles would improve response time. He also said he would advocate for higher pay for deputies.
But putting cars on the road and funding pay increases costs money that the current sheriff makes clear is hard to come by. Current Sheriff Malcolm McMillin has repeatedly approached the press with stories of underpaid employees and worn-out patrol vehicles after supervisors rejected his budget increase proposals.
Bowden said he is confident that he can drum up additional revenue through means outside county supervisors' signatures.
"The sheriff has been growing crops out at the county farm, but there are other forms of produce-oriented economic development, like catfish farming, cattle and hogs," Bowden said.
"We could also bring in a fish-processing plant. There are other ways to make money."