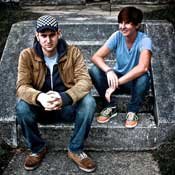 Jackson has been blessed with numerous concerts lately, and while I have in the past "wallered and hollered" about how we don't get enough national acts to come to the Capital City, I'm beginning to realize that it doesn't matter if you're a big-time star or not—awesome music is awesome music. We get a lot of bands from all over the US of A that may be unheard of now, but are making waves and a name for themselves not just nationally but internationally.
On July 26, Brooklyn, N.Y.'s The Forms (http://www.theforms.org) perform with J-Tran and Argiflex at Sneaky Beans. Bandmates Matt Walsh and Alex Tween have been performing together since 2005, and with positive accolades from publications such as Spin and Entertainment Weekly, this band is a must-see.
July 29, Jacksonian (and band nomad) Margaret Townsend Munford brings her band Munny and the Cameraman to Hal & Mal's. Margaret, also lovingly referred to as "Munny," started her duo eight years ago with friend Jonah Sol Gabry while attending Bowdoin College in Maine. They are now on tour from Maine to New Orleans promoting their self-titled debut album released in fall 2010. I'm excited about hearing a Mississippi female singer-songwriter and a New York jazz musician pull off such a blend of southern jazz and Americana music. Please visit their website at http://www.munnyandthecameraman.com to hear their music before the show. I promise you won't be disappointed. Taylor Hildebrand will open for the duo.
Please come out and support these "national acts." I better not hear anybody else say Jackson doesn't bring in good music after watching these shows (wink wink.)
Wednesday night, Poets II has DJ Cadillac and RPM spinning all night, and Jesse "Guitar" Smith performs at Burgers and Blues. For Thursday night, we have Brian Jones at Time Out Sports Bar, Jason Turner at Bonny Blair's Irish Pub in Flowood, and it's Ladies Night at Ole Tavern.
Dreamz JXN hosts Can't Feel My Face on Friday. Sam's Lounge hosts Adam Faucett and Liver Mousse, Martin's host former Galactic members Good Enough for Good Times.
Also Friday, the Southern Cultural Heritage Center in Vicksburg is filming Jackson's own Delta Mountain Boys for a CD/DVD release in the near future. The event will also be a fundraiser for the SCHC. If you're interested in helping out, visit the website at http://www.southernculture.org.
Saturday night will be my last show with Clinton at Hal & Mal's, so I'm cordially inviting you to Clinton's Farewell Party before he and the "whole fam damnly" take off for California. Stop by and check out Swamp Babies and Iron Feathers next door in the Red Room, too. Jason Isbell (from Drive-By Truckers fame) and the 400 Unit play at Fire, Smokestack Lightning plays at F. Jones Corner, Scott Chism & The Better Half play at Fenian's, and Gunboat performs at Ole Tavern.
On Sunday, Fire brings in one of my favorite bands, Maylene and the Sons of Disaster (think Pantera with Skynyrd undertones) with 10 Years and Echoes the Fall.
Please continue to support the Central Mississippi Blues Society, which holds its weekly jam at Hal & Mal's on Monday nights. The CMBS gets support from the Mississippi Arts Commission and the National Endowment of the Arts, but local support is needed also. Visit the website at http://www.centralmississippibluessociety.com for more information.
I hope everyone has a great week, and please come tell Clinton "so long, farewell" on July 23.
Oh, and if you see me out and about, please say hello!