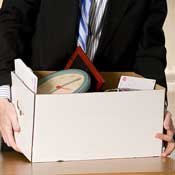 CORRECTION: In an earlier version, we referred to the Workforce Investment Act and the Workforce Investment Network by incorrect names. We apologize for that. We also said 30 jobs might open up as other employees retired or left their jobs. MDES spokeswoman LaRaye Brown prefers we had said the openings would depend on "where the funding is." She also wanted us to clarify a quote about training programs to make sure readers didn't associate that with federal stimulus funds. We apologize for any confusion.
One month ago, Machelle Kyles was busy preparing to train another wave of job seekers at Florida-based Paxen Learning Corp.'s office in Jackson. Now, the former program coordinator is job-hunting herself.
She got the word June 28.
"Our performance managers were over the top, so we were very hopeful to be renewed," she said. "Then I got a phone call saying that we were going to close on the 30th."
Paxen had a contract with the Mississippi Department of Employment Security, one of many private work development programs throughout the state.
The Paxen program Mississippi Forward March-About Face trains men and women of all ages in areas such as GED preparation and career readiness. Most of its funding, however, came from the federal stimulus package—grants in amounts of $500,000 and $300,000—which ran out at the end of June.
In Mississippi, Paxen also received $200,000 from the Workforce Investment Act, or WIA. The federal government allots funds through the WIA to states to increase workers' job readiness and retention. WIA provides the framework for Mississippi's Workforce Investment Network, or WIN, which has 55 job centers around the state.
LaRaye Brown, MDES communications department manager, said they simply had to respond to the shortage of federal funds this year. "We provide money for anything as money is available," she said.
Kyles said she was surprised to find out Paxen was closing, as they exceeded expectations for the year. Still, she knew there was the chance the office would close.
"Our benchmark requirement was 54 people in job placements, and we placed 74 people," she said. "We had major success stories that were published in the MDES newsletter. ... There was a glimmer of hope that we'd be renewed."
Now, the single mother of two is taking classes at Belhaven University toward her master of science in leadership to prepare herself for another job in work-force development.
"I have a passion for economics in Mississippi and putting our people back to work, so that's what I want to go into," she said. "I have faith that something will come up."
Kyles isn't the only one in workforce development left jobless. Faced with a $6 million shortfall, MDES had to terminate 40 workers this summer.
"We're disappointed to lose team members, but this is a very necessary step to maintain the financial health of our organization," MDES Executive Director Les Range said in a press release. "We're encouraging team members to apply for the openings we're announcing."
The federal government had to cut funds in the Workforce Investment Act and MDES also saw a reduction in the temporary funding from Hurricane Katrina aid and American Recovery and Reinvestment Act.
As for the rest of Mississippi's job seekers, programs are still available to help them find employment, Kyles said. On her last day in the office, the phone was ringing off the hook from people trying to enroll in their GED Accelerator program. She referred them to some of Paxen's affiliates, including continuing education programs at Jackson State University and Hinds Community College.
Jackson's WIN job center is located on 5959 Interstate 55 and can be reached at 601-321-7931.