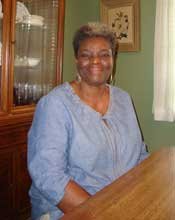 Minnie Watson still remembers the day she met Medgar Evers in 1961. She was attending Campbell College, an all-black private college in Jackson, when Evers came to speak to their class about joining the NAACP.
"It was only five dollars to join, and you know a lot of us didn't have money," Watson says. "But we scrambled and got that five dollars and became members. He really made an impression on us."
Her memory of the civil-rights leader motivates Watson to tell her story today as curator of the Medgar Evers House Museum, a position she's held since 1997, when Tougaloo College opened the home as a museum. White Citizens' Council member Byron De La Beckwith gunned down Evers in his driveway in 1963.
Watson's goal is to spread Evers' message of freedom and equality to as many people as possible. "People need to know the things he did and what he stood for, what he lost his life for," she says. Watson has given tours of the home to thousands of people from around the world over the years. "I get people everywhere from Germany to Nigeria."
She is often surprised by how little many Mississippians know about Evers compared to some of her foreign visitors. "I have visitors tell me that when they stop someone in the neighborhood to ask for directions to the Medgar Evers House, the locals often say, 'Who?'"
Watson stresses that a shared history is essential to any thriving community. Understanding the work of leaders like Evers can motivate young people to take positive action.
"If they knew where they came from, knew what they were a part of, then maybe some of the problems we have now would be eliminated," Watson says.
Watson is active in her neighborhood and serves as secretary of the Georgetown Neighborhood Association, whose goal is to revitalize the area and motivate people to take pride in their neighborhood.
"You've got to get in your community and be concerned. You've got to keep up your own property values and fight to make the city great," she says.
One of Watson's favorite events hosted by the group is their annual "National Night Out" celebration. For one night in August, they ask everyone to turn their porch lights on, come outside and get to know each other better. They open Johnson Elementary to the people and serve hot dogs and hamburgers, "because if you want a crowd, you feed people," she laughs.
She calls the event a "going away party" for drugs and crime. "It's frustrating sometimes," she says, "but if you want things to change, you have to get in there and work."