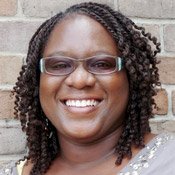 It was my final semester in college, and I arrived in the Pendleton Learning Center for BA 465, Human Relations and Values. The class would help me finish my graduation requirements to walk that May.
When I stepped into the classroom, I recognized many faces in the seats--some I knew well, others just in passing from around campus. There were only about 15 of us in the HRV class. In the school's catalog, the class was described as, "a course that develops understanding of one's self and others as individuals and as members of working groups. Knowledge and skills emphasized include group dynamics and self-awareness, the impact of the self on others, free expression and better listening and barriers to group participation. Through the exploration of differing values and roles, the student is able to improve communications and decision-making both in and out of the workplace."
Our professor, Jeff Banks proceeded to take us down a rabbit hole that was different from anything we had experienced before. We had basically entered group therapy.
Over the semester, we all shared intimate details about our lives. We cried and laughed in equal amounts. In this one transformative class, my entire college experience culminated into a singular, critical lesson: It's not just about me; it's about other people.
I learned that people approach life based on life experiences, backgrounds, relationships (good and bad) and values. This does not excuse bad behavior, of course, but it does help you to be cognizant that there is usually more going on than what is on the surface.
In the office last week, I was asked to gather information about candidates running for the Mississippi governor's seat. As I scoured through the different candidate websites, I found several common threads in their platforms. Each has heralded a strong commitment to improving our educational system.
I asked myself what it will actually take to build a stronger educational system in the state of Mississippi. What will it take for us, as a collective, to help our school-age kids become strong critical thinkers, armed with the knowledge and skills to make good decisions for the future?
If you were to ask any random citizen, politician, critic or proponent of educational reform, you'd receive varying answers, ranging from increased funding to more emphasis on the whole child and smaller classroom sizes and less on standardized testing. Some would point fingers. They would blame teachers, administrators, parents and even the kids.
But again, I ask, what will it take to make things better?
Come Aug. 12, I will join the ranks of the Jackson Public Schools as a middle-school teacher. I am excited and nervous. I will have between 125 and 150 sixth-grade students staring at me across their desks, waiting for me to teach them something worthwhile.
As an educator, I am charged with the challenging task of taking the required curriculum and presenting it in a way that engages the students and prepares them for the state testing at the end of the year. I am certain that over the next 12 months, teaching will stretch me as an individual and solidify my resolve as a first-year teacher, but I'm eager to begin.
I have high expectations for myself and for my soon-to-be students. I want to join with my fellow teachers to make a difference. As corny or cliche as that may sound, that is my heart's desire.
When I look back over the course of my life, I know that everything was in preparation for teaching. I am equipped, not only with a sound knowledge-base of my subject matter, but with life experience. I am a stronger and wiser person now than I was in my 20s.
Since I am an optimistic-realist (I don't know if that's a real term, but let's just go with it), I don't expect my first year to be all rainbows and unicorns. I doubt we will be singing "Kumbaya" around a campfire.
I understand that I will have challenges and setbacks that will knock me on my keester. I know there will be students who will test me every step of the way. I also understand that I can't solve every problem my students will bring with them to this rodeo.
However, I do hope that I can add a positive link to each of my students' chains of life. Hopefully, for the 50 minutes each day that I have them, I can be someone who believes in them and pushes them to do great things.
I will remind myself to look past the exterior walls they may have built up or their hormonal adolescent shenanigans to see the mini-person inside that just wants to be validated.
I've been reading "The Cause Within You" by Matthew Barnett. He founded the Dream Center in Los Angeles. This volunteer-driven organization started in 1994 and serves more than 40,000 people each month. Its mission is to reach those who have been disconnected from God due to homelessness, poverty, substance abuse and other negative elements, and reconnect them to a supportive community that meets their physical and spiritual needs. It does this through developing support systems that encourage positive, long-term changes that honor God and thereby enhance the quality of life. More than 130 Dream Centers have opened around the world.
In his book, Barnett, 37, says our greatest cause in life is to serve other people, and that when we do so, we find ourselves the most fulfilled. In short, we find purpose.
"A transforming cause is never about you--promoting yourself, achieving greater fame or fortune, experiencing more pleasure or comfort, amassing greater power. It is always about using the resources God has given you--skills, relationships, experiences, money, time, intelligence and all the rest--to make a positive impact in the lives of others."
During my time at the Jackson Free Press, I had many rewarding experiences, worked with an amazing group of folks and met wonderful people in the community.
As I take this next step, I don't feel as if I am taking it alone. I feel the supportive hands of my family, friends and many others. I may be the one standing in the classroom, but as I embark on this journey, I feel confident that I have a community of people that I can call upon.
To answer what it takes to make things better: It takes a community of committed people all working together.
Previous Comments
ID

164132

Comment

ShaWanda, you are so ready for this next step. That fact is obvious in the words and sentences written in your column. My advice--cut this out and laminate it, keep it in your desk drawer. Seeing the printed words again, reading them again, maybe even sharing them with your students, will serve you well.

Author

Lynette

Date

2011-07-24T09:57:53-06:00
ID

164136

Comment

We will miss you ShaWanda. Best of luck. Your future students don't know what's in store for them :)

Author

Lacey McLaughlin

Date

2011-07-26T07:40:17-06:00