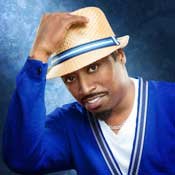 Tonight, we suggest you get your fundraising on. You have a choice of three events to attend. The American Cancer Society's Jamaica Me Crazy beach party begins at 7 p.m. at the Mississippi Agriculture and Forestry Museum, Sparkman Auditorium (1150 Lakeland Drive). Faze 4 provides the music, you provide the cute beach attire. A little later, comedian Eddie Griffin headlines The BeanSprout Benefit Comedy Show. The program begins at 8 p.m. at McCoy Auditorium (1400 John R. Lynch St.), at Jackson State University. Also at 8 p.m., The Fashion for Life fashion showcase at Duling Hall (622 Duling Ave.) benefits the Mississippi Sickle Cell Foundation. So, be part of the solution, help out and look good doing it. Want to know about more fundraisers? Always refer to your friendly neighborhood
Best Bets.
Saturday morning, check out the garage sales and farmers markets. Then, head over to the Claude Monet Day starting at 10 a.m at Mississippi Children's Museum (2145 Highland Drive). You might prefer The New Harmonies in the Park concert also at 10 a.m. in the City of Pearl Park (110 Mary Ann Drive, Pearl). Looking for more wholesome Saturday activities? Then look no further than the JFP Events Calendar.
In the evening, put on your dancing shoes. Salsa Mississippi Studio and Club (605 Duling Ave.) hosts a '70s salsa party at 10 p.m. Want to hear some good music? Shadz of Grey plays at Philip's on the Rez from 7-11 p.m. That's just a small sample--you know where to go for more details on the Jackson music scene: JFP Music Listings.
Remember to grab a bite to eat this weekend. We are here to help. The
JFP Restaurant Listings and the Menu Guide provide instant info on some of the best places in Jackson to wine and dine.
Going to the movies? Consult the JFP Movie Finder. Going shopping? Get ideas at the
JFP Swag Store.
Is something missing? To make sure your event is listed on the JFP calendars, send the information to [e-mail missing] or [e-mail missing], or add your event yourself. It's easy!