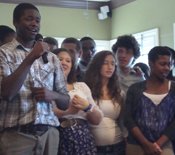 Sixteen high school kids from Philadelphia, Pa., brought their mission to "share, unite and inspire" to Koinonia Coffee House this morning.
They were with a group called Operation Understanding that brings together African-American and Jewish-American high school students to learn about each other's cultures and discuss social justice. They travel around the country to different cities, going to museums and events to learn about both group's history.
"The relationship between blacks and Jews has waned over the years," said Allison Pokras, executive director of the program. "There was once a strong connection between the two groups, and we need to rebuild it."
Pokras pointed out that 50 percent of the white civil rights workers in the 1960s were Jewish, when less than 1 percent of the American population was Jewish at that time. "So that showed a significant partnership with the black community. The Jewish community felt a strong commitment to social justice and to helping the black community."
Pokras said that this sense of commitment to each other, and to social justice in general, is what Operation Understanding wants to restore.
At this morning's presentation, several kids stood up and talked about what they've learned through the program.
"The event that impacted me the most was probably when we watched a reenactment of the slave trade," Victoria Stitt, 17, said. "We didn't know what was going to happen when we walked in, and this lady put us in lines and started yelling at us. ... That really kicked into gear why Operation Understanding is so important because we saw the extent racism can build to."
Several of the kids mentioned the group's nightly meetings as one of their favorite aspects of the program. The meetings give them a chance to reflect on their day and discuss new things they've learned.
Stitt remembered one discussion that helped change the way she thinks about her own culture.
"We had a discussion about supposed 'different types of blackness,'" Stitt said. "For instance, I've had people treat me like I'm 'not really black' because of the way I speak and things like that." She said this conversation caused her to ask herself "What is black culture?" and compare that to similar experiences the Jewish-American kids in the group have had.
Sometimes the discussions lead to personality clashes. "We actually hope there will be some clashes between the kids," said Pokras. Because that's how they learn that disagreement happens, and you don't always have to agree with someone, but you do have to respect them."
"But respect can only happen when there's trust," Pokras continued. "And that's a huge part of why we send them on the road--we want them to get constant contact with one another, so they'll learn that they can trust each other. Then, they're ready to have these difficult conversations with each other. They get to practice these types of conversations so they'll be ready to proceed with an open mind when they go out in the world."