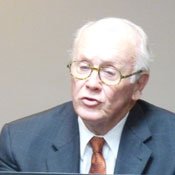 Hinds County Judge Winston Kidd will hear arguments this morning over a Nov. 8 ballot initiative aimed to prevent the government from taking private land for non-public projects.
Last month, Mississippi Development Authority Director Leland Speed filed a lawsuit to stop the initiative from appearing on the ballot. Speed maintains that he is filing the suit as a citizen and not as director of MDA.
Speed said that the lawsuit will halt future economic development projects like the Nissan and Toyota plants.
Proposed by the Mississippi Farm Bureau Federation, the ballot measure would ask voters, "Should government be prohibited from taking private property by eminent domain and then transferring it to other persons?"