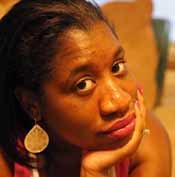 Flip through Graphic Design USA's 250-page publication of award-winning designs, and between designs from Geico, Coca-Cola and Pepsi, you'll find the designs Talamieka Brice made for Methodist Rehabilitation Center. This is the second year Graphic Design USA recognized the Mississippi native's work, and she describes the attention as really cool.
While Brice works for the Methodist Rehabilitation Center, her freelance work has received attention as well. She designed the official hubcaps for the U.S. Wheelchair Fencing team.
Born in Kilmichael, Miss., Brice grew up without arts education in her classrooms but she always drew. To keep her daughter occupied, Brice's mother would encourage her daughter's drawing habit.
"She always had me drawing," Brice, who is now 30, says. Around the age of 12, Brice responded to an art instruction school commercial, and after sending in a test that she remembers required drawing a turtle, Brice was accepted.
Nevertheless, graphic design never seemed like the career path she'd take. Brice originally planned to go to Mississippi State University and study computer technology or computer animation, but after receiving a full academic scholarship to Jackson State University, Brice decided to take up graphic design.
In college, Brice bettered her craft and met her husband and business partner, Charles Brice. "He was like my competition, and he still is to this day," Brice says. "We both have our own strengths and weaknesses." His strength is photography, while she says her strength is with graphic design.
In 2008, the two started Brice Media. On their website, brice-media.com, are pictures from Afghanistan, where he has worked as a photojournalist for the army. Before finishing college, he joined the army and initially worked under Special Forces and was a paratrooper. When Charles is at home, he covers natural disasters, like the Smithville tornado earlier this year, and sends his work to media outlets.
Brice describes having a husband working in Afghanistan as sometimes nerve-racking, especially when he can't always tell her where he's going or what he's doing for periods of time, and if she watches the news and hears about those killed, she has no way of knowing if Charles is okay.
So quite naturally, Brice is anxiously awaiting his final return at the end of next month. In November, the two plan to have an art show together.