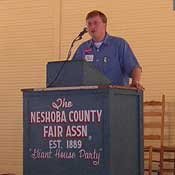 The race for lieutenant governor consists of only two serious candidates this year—both Republicans: state Treasurer Tate Reeves and Gulfport Sen. Billy Hewes.
Socially speaking, expect the two candidates to have mirror views on making abortion illegal in the state, fighting for a new voter-identification requirement and generally opposing most tax increases. As lieutenant governor, one of the candidates will be in charge of appointing Senate committee chairpersons who will most likely follow their ideological whims and create an hyper-conservative Senate. Hewes was one of the senators this year who voted against an election committee plan to redraw the state's 52 Senate districts because he felt the plan didn't contain enough Republican districts.
With much in common, both men resort to hammering one another on the airwaves regarding each other's personal support for increasing the state's bond debt. Reeves accuses Hewes, as a senator, of voting yes for a host of Senate bond proposals during his 1992-to-present tenure. Hewes, meanwhile, accuses Reeves, as state treasurer and a member of the state's bond commission, of approving many of those same bond deals that the Senate and the House sent the commission for mandatory endorsement.
Both Republicans are pushing an anti-deficit crusade highlighted by the national debate in Congress over the need to raise the U.S. debt limit. Republicans in the U.S. Congress, whipped to a frenzy by the Tea Party base, won't allow a debt increase without significant cuts to social programs, while Democrats demand a combination of smaller cuts and tax hikes, predominately for the nation's wealthiest tax brackets.
The state debt differs from the national controversy in that state bond debt consists of low-interest loans to local municipalities and counties to fund potentially revenue-generating projects, such as museums and infrastructure.
Reeves, while gearing up for the lieutenant governor's race, was vocal about his disapproval of a $6 million bond project legislators slated for the city of Jackson to prevent further water infrastructure mishaps like the city-wide pipe failures of 2010.
Hewes, as a senator, has the political disadvantage of being the incumbent, a local politician who spent years doing what his voters wanted by bringing bond-funded projects to his district.
The Parents' Campaign, a K-12 education lobbying group, mailed out questionnaires to the candidates, requesting their opinions on funding the state's Mississippi Adequate Education Program, which distributes state money among its many school districts. The group points out that legislators generally underfund the program except during election years, which leaves some schools scrambling to retain teachers or buy school supplies.
Hewes, with a lifetime voting record of 51 percent for favoring Parents' Campaign issues like MAEP, offered no promise to meet MAEP funding as lieutenant governor.
"I don't believe it prudent, particularly in the context of an election, to require candidates for office to commit to any specific dollar amount of funding for any program, including education," said Hewes, who described the MAEP funding formula a "politically created benchmark" that he would only meet after first handing out "cost-cutting/containment measures" to schools.
Reeves, with no prior voting record on MAEP, or much of anything for that matter, happily sounded off his support for full MAEP funding.
"It may take more than two legislative sessions, but yes, I do support full funding for MAEP," Reeves stated in his questionnaire response.
Reeves has two years as the state treasurer under his belt, but Hewes rides his nearly 20 years of experience in the Senate and his experience with the senatorial process as a leading reason to vote for him.
The winner will face Reform Party Candidates Tracella Hill and/or Lisa McCarty. (The state secretary of state's office appeared perplexed as recently as July 21 at the existence of two "Reform Party" candidates.)
To read more candidate interviews and more political news, visit http://www.jfppolitics.com and follow @jfppolitics on Twitter.