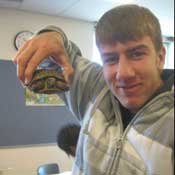 Wes Leonard had just made the game-winning shot to complete a perfect undefeated season for Fennville High School in Michigan on March 3. The crowd cheered as his teammates lifted the 16-year-old basketball hero into the air in celebration.
Moments later, the team gathered for a photo. That was when Leonard collapsed. Within an hour, he was dead.
Two days after Leonard's death, 17-year-old Fort Collins, Colo., rugby player Matthew Hammerdorfer died after taking a hard hit to his chest. The death of young athletes this spring continued May 31, when Winslow, Ariz., Little League baseball player Hayden Walton, 13, died after being hit in the chest with a pitch.
Deaths like these aren't a common occurrence in sports, but they are not new or rare, either. In March 1990, Loyola Marymount University star basketball player Hank Gathers passed out and died during a game against Portland. In July 1993, Boston Celtics guard and leading scorer Reggie Lewis died during a shoot around at Brandeis University.
All these athletes died of a condition known as sudden cardiac death, also called sudden arrest, when the heart simply stops.
Among the most common causes of SCD in young athletes are: hypertrophic cardiomyopathy, a thickening of the heart muscle; congenital coronary anomalies; and myocarditis, inflammation of the heart muscle. From 2004 to 2008, sudden cardiac deaths among high school and college athletes totaled 45.
A recent study found that one in every 44,000 NCAA athletes dies each year from cardiac problems. Division 1 basketball shows the highest rate of SCD, with one death per 3,146 players per year. Lacrosse (one in 23,357) and swimming (one in 23,488) were second and third, with football coming in at one in 38,497. Cross-country running was lowest sport for SCD, at one in 41,695. Males (one in 33,134) are more than twice as likely to die from SCD as females (one in 76,696), and black athletes are much more likely to die of SCD (one in 17,696) than white athletes (one in 58,653).
Recently, an Italian study found that electrocardiogram or echocardiogram is able to detect potential causes of sudden cardiac death. The study used a combination of family and personal history, a physical exam and an electrocardiogram, and its findings have led to lowering athletes' death rates in Italy by 89 percent over 25 years, while non-athlete related deaths remained stable over the same period of time. The European Society of Cardiology and International Olympic Committee endorses standardized screenings for athletes.
In contrast, an American Heart Association panel considered the addition of electrocardiograms, or ECGs, unwieldy and too costly for large U.S. athlete populations. The average national cost for an ECG is $1,500. The panel also cited a high rate of false positives, about 1 in 6, for not making the test standard for American athletes. False positives require more testing.
In a 2007 statement, the American Heart Association recommended that every athlete provide a detailed personal and family medical history to their doctor and have a thorough physical exam before participating in sports.
Several experts have called for standard testing of high-risk groups such as basketball players, males and blacks.
A 2010 study from Stanford University found that using ECGs (along with family and personal history, and a physical) could be expected to save about two years of life per 1,000 athletes (analyses of this type commonly refer to years-of-life saved instead of referring to individual lives) at a cost of $89 per athlete.
The authors presented the cost benefit of the study this way: The total cost of adding the ECG screening test would be $42,900 per year of life saved—a sum that is in line with other U.S. health-care expenditures, such as the cost of dialysis for patients with chronic kidney disease ($20,000-$80,000 per year of life saved) or public access to defibrillators ($55,000-$162,000).
Not everyone agrees. Mike Wilkinson, director of outreach service at Mississippi Sports Medicine, said athletes receive ECG screenings during their physicals before the start of the new school year. Doctors give further tests to potential high-risk athletes.
"Overall research has not proven that ECG screenings are accurate," he said.
To help save lives of young athletes, automatic external defibrillators could also be mandatory at every sporting event. It's an easy fix, but an expensive one: The average price of automatic external defibrillators is around $1,200. Most trainers associated with Mississippi Sports Medicine carry a portable defibrillator to games, Wilkinson said.
"Since 2007, all coaches are required to have CPR certification and know how to use portable defibrillators." Wilkinson said.
"It is not mandatory for schools to have defibrillators, but there are several grants out there for schools to help obtain one."