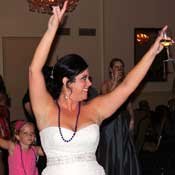 'Tis the season—no, it's not Christmas in July. It's wedding season. I've strapped on my stilettos and made the rounds, toasting happy couples and collecting commemorative koozies.
When a couple participates in an extravagant supper club and the groom is in a band (or three), you can expect a good party, and the nuptials of my friends Jane Collins and DeMatt Harkins (of the Church Keys) didn't disappoint. After a small ceremony for family only, they invited friends to celebrate at Duling Hall (622 Duling Ave., 601-362-8440) with food by Mangia Bene Catering (3317 N. State St., 601-982-4443). After dancing to Juice (from New Orleans), guests took away not only a koozie (definitely the party favor of this season), but also a custom CD—a clever nod to the groom's affinity for music.
Next up was the wedding of Fondrenite, lawyer and owner of Brent's Drugstore (655 Duling Ave., 601-366-3427), Brad Reeves and his bride, Mandy Armstrong. After the nuptials at St. Luke's United Methodist Church, guests headed to the reception at The South Warehouse Gallery (627 E. Silas Brown, 601-968-0100). The food by Fresh Cut Catering & Floral (108 Cypress Cove, Flowood, 601-939-4518) was fantastic. Any time I am greeted by scallops when I walk in, I'm happy, but a highlight for me was the sweets area, which reflected the Brent's Drugstore and soda-shop heritage. Guests filled medicine bottles from a candy station to take home. As if that wasn't enough, the groom's cake was set up in a Brent's booth and included a hamburger, fries, shake and even ketchup bottles made out of cake. The Cake Diva (Maria de la Barre, 601-513-4304) outdid herself on that one.
Next up were the nuptials of another lawyer who kept things local—Sam Begley and his bride Karen Horne. After a ceremony at St. Peter the Apostle Catholic Church downtown, the reception took place at the groom's Belhaven Heights home. This most personal of touches ensured that things felt like a fun party with friends. Giant paper lanterns outside elevated the event, along with Scott Albert Johnson playing in the backyard and another fun groom's cake. This one, again by The Cake Diva, was the Democratic donkey—giving a strong kick with its hind legs.
My last fete of the season was that of Lauren Brooks, aka the Shakeweight Bride, and her groom Robert Ritchie. Thanks to her trusty Shakeweight (a weight held with both hands that you shake), she looked fabulous in her dress, and her wedding was traditional with her own touches. After the ceremony at First Baptist Church, the party headed to Colonial Country Club. While getting their groove on to the stylings of DJ (and local radio personality) Scott Steele, guests caught Mardi Gras beads, a shout-out to the groom, who is from Bogalusa, La. Also making an appearance, courtesy of maid of honor Lindsey Brooks' date, Ryan Bell, was the classic summer fabric, seersucker, paired with a bowtie. Very southern.
Here's to all the newlyweds out there and to wrapping up wedding season and heading into that other great southern season—football!